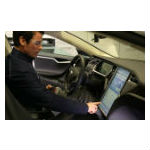 Enhanced safety and security features, along with various other technological enhancements afforded by in-vehicle Internet and LAN connectivity, is driving production and consumer uptake of connected cars. Dividing the connected-car tech market space into infotainment, telematic and navigation applications, Transparency Market Research foresees ongoing growth in connected car sales, with market analysts expecting the global connected car market to reach $131.9 billion globally by year-end 2019.
Of the three broad connected car application categories navigation "dominated the connected car market globally with more than 40 percent share in 2012," Transparency highlights in a research report summary. Growing demand for traffic information service fueled the growth.
Connected Car Market Forecast
Functional enhancements afforded by in-vehicle Internet and LAN connectivity include navigation, music playing, smartphone apps, engine controls, voice commands and car diagnosis, according to Transparency. In addition to navigation, other growth drivers include services for weather information, gaming, entertainment, notification of speeding, crashes and location information.
Commercialization of connected-car entertainment head units and greater smartphone penetration led market participants to focus initially on the North American and European markets. That focus has broadened to encompass other regional and national markets, and that will accelerate growth, Transparency analysts point out.
Use of 4G mobile broadband technology in connected cars is on the rise and becoming widespread in North America and Europe, Transparency notes, "while 3G would get a boost from countries such as India."
In terms of wireless network technology, the connected car market is broken down into 4G (LTE), 3G (UMTS, HSPA, HSPA+), and 2G (GSM, GRPS, EDGE) categories, Transparency explains. "Out of these technologies, 4G being the fastest technology held over 30 percent of the entire connected car market share in 2012. 4G technology allows access to the newest applications and services in a vehicle which enhances consumers' experience," the market research company reports.
Challenges to growth of the connected car market persist, however, Transparency notes. The high cost of hardware is one hurdle. In addition, "the risk of the driver getting distracted by too many features equipped in a connected car is higher compared to a normal car, which also inhibits the growth of this market." On the other hand, "[R]apidly evolving network technologies serve only to boost the demand for these cars."