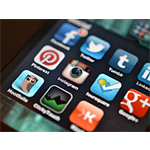 Smartphone online time now accounts for 50% of the total time Americans spend online, according to the latest comScore MMX Multi-Platform and Mobile Metrix market data services.
Growing rapidly to the point where smartphone Internet access exceeds that for all other connected devices combines represents another digital media industry milestone and reveals the degree to which smartphones and mobile apps have come to a play a central role in daily life, comScore highlights in a news release.
Smartphone Online Time
Smartphone apps accounted for 41% of the total time Americans spent online in July, 2014. That dropped slightly below 40% in late 2014 before embarking on a rather steep uptrend that continued through July this year, according to comScore data.
Use of dekstop PCs accounted for 32% of the total time Americans spent online in July. Tablet apps accounted for 9% while Web apps accounted for 7%.
Compact, light weight, larger screens, expanding number of uses and improving performance all factor into the ongoing rise in smartphone app usage, as does growing availability of 4G LTE wireless broadband access. Unless someone happens to be sitting in front of a desktop of laptop computer, it's a smartphone they'll turn to go online and engage in anything from making and receiving calls, sending or receiving emails, sharing something on social networks, listening to music, watching a short video or navigating to a destination, comScore points out.
In related market research, IDC recently forecast that total mobile app downloads will exceed 210 billion and generate $57 billion in revenue come 2020. Mobile app installations totaled 156 billion in 2015, while direct revenues (excluding advertising) reached $34.2 billion.