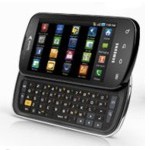 The number of Americans 13 years and older who own smartphones surged 60% year-over-year in Q4, reaching 63.2 million. As far as the operating systems which control smartphones, RIM's Blackberry OS captured a 31.6% share of the U.S. market, while Google's Android ranked second with a 28.7% market share, a 7.3 percentage point gain quarter-to-quarter. Apple's iOS captured a 25% share of the market, up .7 percentage points, followed by Microsoft with an 8.4% market share and Palm with 3.7%, according to comScore.
Samsung topped the ranks of mobile phone original equipment manufacturers (OEMs) according to comScore's MobiLens service. Samsung captured a 24.8% share of U.S. mobile subscribers, a 1.3 percentage point gain from Q3 '10. LG ranked second with a 20.9% market share, followed by Motorola with 16.7%, RIM with 8.5% and Nokia with 7%.
ComScore also researched mobile content usage in its latest MobiLens research. Text messaging topped the list with 68% of respondents saying they had used their mobile phones to send and/or receive text messages, a one percentage point quarter-to-quarter increase. Over one third, or 36.4%, of respondents said they used Web browsers on the their mobiles, up from 35.1% in Q310, while 34.4% said they used downloaded apps, a 1.3 percentage point quarter-to-quarter rise. Accessing social network sites or blogs (24.7%), playing games (23.2%) and listening to music (15.7%) followed.