As providers begin to decommission copper networks, startup Community Phone sees an opportunity to cash in by serving people who would prefer not to make any big changes. Telecompetitor talked to Community Phone CEO and founder James Graham to learn more about how the landline replacement service works and who buys it.
The company's goal, Graham said, is to "make it as easy as possible to let humans reach other humans."
The offering works over a cellular connection but works with an existing landline phone and doesn't require internet connectivity, Graham explained. The company has agreements with multiple cellular providers and can provide service even in rural areas where people may think cellular doesn't work, thanks to the company's antenna design and because service isn't mobile, he said.
The company can serve virtually anywhere in the U.S. thanks to roaming agreements, he added.
Landline Replacement
Graham rattled off some data points about the potential market:
More than 20 million businesses have a landline phone as their main business number
Three-quarters of people over the age of 75 rely on a landline phone
One third of U.S. households have a landline phone
Community Phone got started in 2018. Graham declined to reveal how many customers the company has but said the number is "well into the tens of thousands of customers." Among them are Dunkin Donuts, Starbucks, Wells Fargo, KFC and 7 Eleven.
When customers sign up, Community Phone ships them a device that, according to Graham, can be installed in just a few minutes.
"They open the box, take it out of the box, plug it into a power outlet and take their phone out of the RJ-11 jack and plug it into our hardware," he explained.
If needed, Community Phone can provide a phone. Customers also have the option of getting a new phone number or porting their existing number from their previous provider.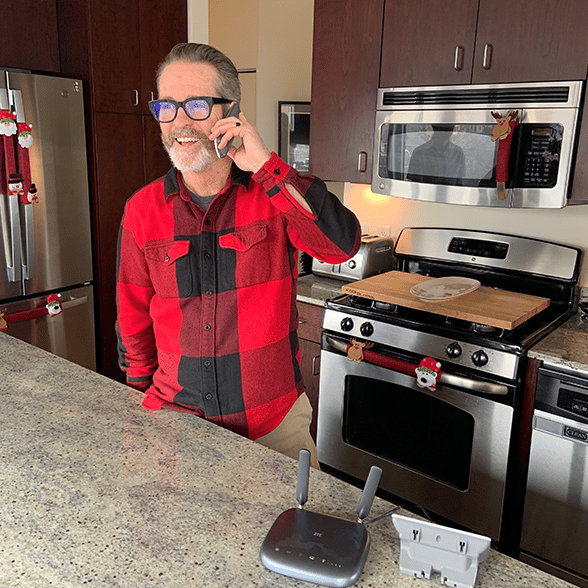 According to the Community Phone website, pricing starts at $39 a month.
Some traditional telecom providers have had cellular-based landline replacement offerings for years.
Nevertheless, according to Graham, "some carrier stores refer people to us because they don't want to be in this [business]."