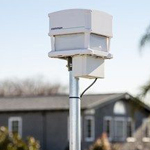 Common Networks, an innovative wireless ISP serving several west coast metro markets, has launched what it calls "the first commercial deployment of wireless rooftop hardware to customer homes that leverages the new 802.11ay standard, via the Qualcomm 60 GHz Wi-Fi chipset, and Terragraph, a gigabit wireless technology by Facebook Connectivity."
The offering is designed for installation on existing rooftops and the like, which should make it less costly to deploy in comparison with fiber-to-the-premises. The goal is to offer high-speed broadband service at competitive prices.
Common Networks already was offering a service that combined earlier-generation 801.11 a/b/g/n/ac technology operating at 5 GHz and 60 GHz to deliver service at speeds up to 300 Mbps for $49 monthly. Later this year, the company plans to launch gigabit fixed wireless service using the newly-launched 802.11ay and Terragraph technology.
Common Networks Terragraph
The 802.11ay standard is one of two Wi-Fi standards supporting gigabit speeds. According to Wikipedia, the standard is designed to work at 60 GHz and supports a transmission rate of 20-40 Gbps, with a transmission distance of 300-500 meters.
The 60 GHz band is ultra high-frequency millimeter wave spectrum that is available on an unlicensed basis. Higher-frequency bands can support faster speeds in comparison with lower-frequency bands but over relatively short distances.
Terragraph is a fixed wireless technology developed by Facebook Connectivity that is also designed to operate in the 60 GHz band and that uses a multi-point, multi-hop mesh approach.
Common Networks added technology of its own to support its new offering, dubbed "Peregrine." According to a press release, the company's proprietary technology, dubbed Wireless Graph Network, "uses smart routing and monitoring to manage traffic across multiple spectrums, delivering reliable internet to homes while drastically lowering the initial costs of connection."
The release also notes that Peregrine takes advantage of Terragraph's "time synchronization of nodes feature, which reduces radio interference that can be a challenge with high-speed wireless networking."
The Facebook Terragraph website notes that Common Networks deployed Terragraph technology in Alameda, California in May of last year.
Another company that is deploying Terragraph technology is Puerto Rican competitive carrier AeroNet.
Although it has only been offering service for three years, Common Networks currently covers markets that can reach up to 100,000 people, according to the company. The company also has deployed 5G fixed wireless technology in San Leandro, California.