D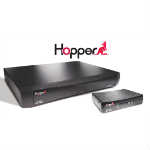 ISH Networks is in the middle of a broad marketing campaign for their new whole home DVR solution, the Hopper. If you've watched TV in the past 60 days, you've probably seen ads for the new DISH DVR solution. How ironic that they are now pushing an automated commercial skipping feature for that product – a feature that they hope brings some competitive advantage to the pay TV business.
Consumers love to fast forward through commercials while viewing their recorded content. DISH is now taking that desirable feature and automating it through their new "Auto Hop"  feature.
According to a DISH press release, "Auto Hop, using patented technology, works with most shows recorded using PrimeTime Anytime (patent pending). A viewer can watch a show with the Auto Hop option commercial-free starting at 1 a.m. ET, after a show has been recorded to the Hopper's PrimeTime Anytime library. Prior to that, The Hopper's 30-second "hop forward" feature continues to work for same-day viewing."
In other words, Auto Hop takes care of the commercial fast forwarding for you, by removing commercials from certain recorded programs. The feature is currently limited to primetime shows on NBC, ABC, CBS, and FOX and cannot be used during live broadcasts. I'm sure advertisers "love" this approach.
DISH offers Hopper as a free value add on for customers who select their America's Top 200 package or better. Otherwise they charge $4/month plus $7 per Hopper receiver.
Innovative DVR features have been proven to build some competitive advantage. AT&T used their whole home DVR quite effectively in the early days of U-Verse TV. Most of their competitors have since closed that advantage. Will Hopper and Auto Hop bring similar advantage to DISH?