A Comcast spokesperson confirmed that Xfinity Mobile 5G service, announced today, will run on the Verizon network through the MVNO agreement between the companies. The Verizon 5G network is available in parts of 34 markets nationwide. Where it isn't available, the service will use Verizon LTE or, in some cases, will use Comcast Wi-Fi infrastructure.
Xfinity Mobile 5G
Along with 5G capability comes new pricing for Xfinity Mobile.
Customers will still have the option of paying by the amount of data used, which can be as little as $15 per month for up to 1 gigabyte (GB) of data. That price went into effect for new accounts beginning today and it's an increase over the $12 per GB that Comcast charged when Xfinity Mobile was launched back in 2017.
Today's press release notes that existing customers can gain 5G connectivity by upgrading to a new plan. That, of course, means adopting the new price point.
The company hasn't changed the price for unlimited service, however, which remains at $45 monthly, with speed scaled back after the customer uses 20 GB per month.
Unlimited service is only available to people who have a residential Xfinity internet service, however. By-the-Gig service is available more broadly, but there is a $20 monthly surcharge for those who do not have a residential Xfinity internet subscription.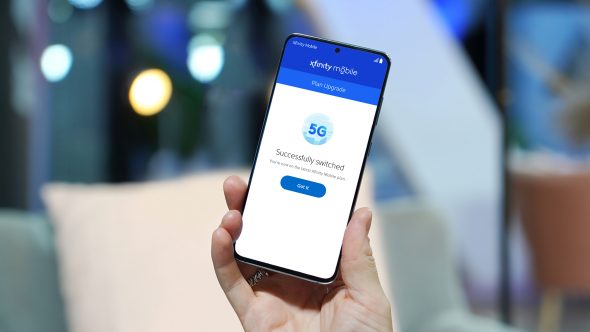 Customers who want to pay by the gig but need more than 1 GB of data can pay $30 monthly for 3 GB service or $60 a month for 10 GB. Users can switch between these plans from month to month as usage varies.
The xFinity website shows two Samsung 5G models available for use with Xfinity Mobile service.
Comcast and 5G
Comcast has a relatively small share in the highly competitive U.S. mobile market, and whether the company is likely to make money on the service is a major question. The company sees the offering as a means of shoring up its key home broadband business, however.
To date, Verizon has deployed 5G in the millimeter wave band, which limits coverage but enables the company to offer some of the fastest mobile broadband speeds in the hundreds of megabits per second.
Today's press release stopped short of quoting 5G speeds but hinted that they would be fast. The release also hinted that people may not be using as much mobile service as they have traditionally because of the COVID-19 pandemic.
"Xfinity Mobile customers already have access to the fastest internet at home with Xfinity Internet service, and starting today, Xfinity Mobile customers can access 5G when they are ready to safely be out on the go," Comcast said.