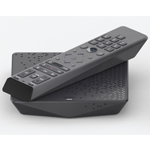 Comcast hopes to upsell internet-only customers with Xfinity Flex, a service announced today that offers a unique combination of features. The service provides an Internet-connected 4K HDR streaming TV device, a voice-activated remote, a guide that integrates popular video and music streaming services, and Comcast's WiFi, mobile, security and automation services.
The $5 per month service doesn't include linear TV channels but offers plenty of video on demand content, including movies and TV shows.
"Xfinity Flex will deepen our relationship with a certain segment of our Internet customers and provide them with real value," Matt Strauss, Comcast Cable's Executive Vice President of Xfinity Services, said in a press release. "For just five dollars a month, we can offer these customers an affordable, flexible, and differentiated platform that includes thousands of free movies and shows for online streaming, an integrated guide for accessing their favorite apps and connected home devices, and the ease of navigating and managing all of it with our voice remote."
The strategy is multifaceted. Xfinity Flex will offer more than 10,000 free online movies and television shows and a variety of streaming services, including ESPN3, Xumo, Pluto, Tubi TV, Cheddar and YouTube. It also integrates apps from Netflix, Amazon, Prime Video, HBO and a number of other audio and video services. Soon, Comcast says, customers will be able to upgrade to the full Xfinity X1 cable service right from the guide.
Comcast Xfinity Flex, available only to Xfinity Internet subscribers, appears to be a good platform for upselling the Internet-only segment of the MSO's customer base to more advanced and comprehensive services bundles. There are at least two tactics it is using to achieve this goal. One is to simplify the increasingly complex array of audio and video choices subscribers face. The other is to deploy equipment that can manage smart home and connected devices.
"As more connected devices, streaming choices, and smart home services come online, Xfinity Flex will provide customers with an easy way to better manage, control and enjoy the connected home as it continues to grow," the company says.
In late October, Comcast said that it had added 334,000 residential broadband subscribers in the third quarter of the year, which almost doubled the net additions from the year-ago quarter.