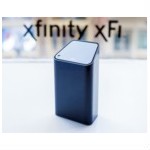 A new Comcast xFi Advanced Wi-Fi Gateway is now available in every market that has Comcast Xfinity Gigabit Internet, currently available in 26 markets. The new gateway can provide gigabit type performance within the home, while also integrating IoT capabilities.
The xFi gateway has hit speeds of 1.5 Gbps in the lab, Comcast said. This speed – and even higher speeds – are attainable because of features including an 8×8 antenna array capable of 160 MHz operation, Multi-user, Multi-input, Multi-output (Mu-MiMo) technology and a combination of IoT radios.
Comcast xFi Advanced Wi-Fi Gateway
A related post provided details on these features. The 160 MHz channel antennas are far wider than many on the market today, which generally top out at 20 MHz or 80 MHz. The extra spectrum means faster service. The Mu-MiMo technology means that many devices can be accommodated simultaneously without performance degradation of any of them, according to Comcast.
The gateway also includes dedicated IoT radios include Bluetooth Low Energy, Zigbee and Thread. The popular IoT platform NEST uses Thread radios. Zigbee is also used by many home automation devices and sensors. Comcast aims to position the new xFi advanced gateway as a true hub for home automation.
Comcast believes this advanced gateway will provide whole-home coverage for most homes in it's footprint, but for large homes or ones with connectivity challenges, a mesh Wi-Fi option will also be made available soon. Wi-Fi mesh pods will be compatible with the new gateway with availability later this month, the company says. The new gateway also uses Comcast's Wi-Fi management dashboard and app, allowing subscribers to manage their Wi-Fi experience, with tools like parental control and Wi-Fi pause.
"With xFi, setting up an xFi Advanced Gateway is as simple as plugging it in, scanning a QR code with our xFi app, and clicking through a few simple prompts," the blog said. "Once online, in addition to ultra-fast Wi-Fi speeds, customers will have access to unprecedented control over their home Wi-Fi network, with the ability to set profiles for every member of the household, assign devices and decide what devices connect and when."
Service Provider Wi-Fi Aims to Keep Pace
A pleasing design also was a key element in the development of the XFi Advanced Gateway, Comcast said. Design for these devices has become a very important attribute, as competition from innovative direct-to-consumer Wi-Fi gateway options from the likes of eero, Google, and others challenge service providers to keep up.
The gateways work better if they have as clear access as possible to other devices in the home. For that reason, they generally are in very visible locations. This led to the use of the Xfinity Design Language, which created a consistent look across the latest generation of the company's devices and products.
Service providers of all sizes are stepping up their Wi-Fi capabilities with an understanding of the importance in-home coverage now has for customer satisfaction and reduced customer service costs. It's no longer about just good Wi-Fi coverage though.
A centralized hub for home automation and IoT are now equally important. As an example, broadband access vendor Calix revamped their Wi-Fi home gateways and also recently launched an entire 'home OS' to help their service provider customers manage and capitalize on the home automation and IoT trend.
Bernie Arnason contributed to this post.