Comcast Business has launched X1 for Hospitality and said that it will be used in the Four Seasons Hotel Philadelphia at Comcast Center when it opens in the winter. Comcast has effectively used the X1 platform to deliver a differentiated user experience to their residential market, where it's been cited as a value-add that helps combat cord cutting and other negative impacts on the video and broadband bundled product line. They aim to extend this value beyond the home.
"Comcast has the potential to disrupt the $3 billion United States business TV market with X1 for Hospitality," said Greg Ireland, multiscreen video analyst at IDC in a Comcast press release. "Products and solutions that have generated excellent results on the residential side can help businesses, particularly in the hospitality industry, gain an edge in attracting new and returning consumers."
The version of X1 for Hospitality used at the 219-guest room Four Seasons will feature:
Content: Approximately 300 channel options and a free library of over 50,000 TV shows and movies On Demand
Voice Control: Guests can use the X1 Voice Remote to search for networks, shows and movies, set DVR recordings, change the channel, get recommendations, navigate On Demand content and more.  Residential X1 customers used the voice remote more than 1.5 billion times in the first three months of 2018 alone.
Recordings: A two-tuner DVR, allowing guests to record their favorite programming while watching something else or save content to be viewed at their convenience when they return to their rooms.
Multicultural: X1 is available with Spanish screens and menus and the X1 Voice Remote understands Spanish commands.  The platform also includes curated content collections like Black Film & TV, International, and LGBTQ.
Accessibility: Guests can say "accessibility" into the X1 Voice Remote or tap the "B" key to get to a menu with all of X1's accessibility options.  Guests can also quickly jump into specific features by saying "captions," "description," "SAP," "voice guidance" or "shows with description" to find any programs that are described.
Hotels also will be able to include important promotional and informational content designed to inform and entice guests, a press release notes.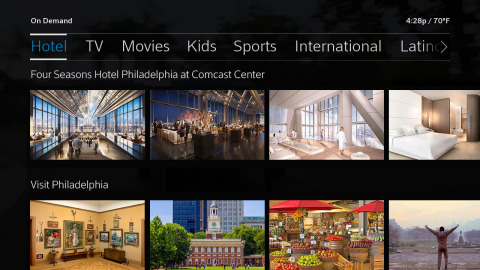 The hospitality sector long has been a staple for video providers. In addition to guest rooms, hotels are used for conferences and to support traveling business people make them attractive. So signing a hotel or chain generally provides access to a good amount of business. In early 2013, Comcast announced the Comcast Business Hospitality business unit.
More recently – today, in fact – DISH said it is integrating Netflix into its EVOLVE television solution. The agreement will enable guests to access their personal Netflix account from their room televisions.