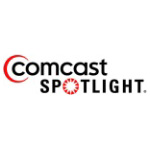 Business is business. So what if Comcast and Verizon compete fiercely across video, telecom, and broadband sectors, when something is apparently win-win, you go for it. Comcast Spotlight, the local ad sales division of Comcast, announced they will begin selling advertising for Verizon FiOS in select markets across the U.S. including Baltimore, Boston, Fort Wayne, Ind., Harrisburg, Pa., Philadelphia, Pittsburgh, Portland, Ore., Richmond, Va., Seattle and Washington, D.C.
"Even as we and Verizon compete in other areas of our businesses, we both recognize the value of being partners in the advertising business and the importance of streamlining the way advertisers buy spot cable. This is a natural fit for both companies and complements the similar agreements we've made with a number of other video distributors," said Steve Burke, COO of Comcast Corporation and President of Comcast Cable.
Comcast Spotlight is the largest spot-cable sales organization in the U.S., currently representing more than 30 million subscribers. While this announcement is an interesting one, truth be told, competitors have long practiced this type of local advertising representation. Smaller telcoTV providers have long relied on companies like Comcast and Charter to do local ad sales, even though they may compete. Although independent local ad aggregators exist as well, including Prime Media Productions and Viamedia. Viamedia had been handling local ad sales for some FiOS markets – no word on what this new deal means to them.
With DirecTV and DISH now gaining the ability to do local ads, you wonder whether Comcast will align themselves with those arch enemies as well?