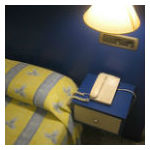 In their ongoing quest to grow business services, Comcast announced a new business unit, Comcast Business Hospitality, which will target hotels and the like. This new suite of services will include "… Ethernet, Internet, video and voice services packaged in one integrated offering customized for the hospitality industry," says Comcast in an announcement.
The new targeted offer is available across Comcast's entire footprint and represents yet another escalation between the cable industry and the traditional telecom industry for enterprise type services. "Comcast operates and supports its advanced network, which is separate and diverse from traditional telecom carrier networks and serves 20 of the nation's 25 largest markets," reports Comcast in a press release.
Comcast is looking to get both single unit and multiple property contracts from both the hotel brands that operate their own hotels, as well as the many franchised units that have operating agreements with hotel brands.
By packaging Ethernet and other business class data services with video, Comcast also wants to differentiate their product suite from DBS providers, who have had some success in offering video services to hotels. The offer includes options for business data, a 60 HD channel line-up to the individual hotel room, and SIP trunking to offer advanced voice services. These are features that DBS competitors cannot match.
Comcast describes the offer as the following:
Business Hospitality Ethernet – Provides fast, reliable and secure network connectivity and scalable bandwidth from 1 Megabit per second (Mbps) to 10 Gigabits per second (Gbps). Hospitality organizations can easily and quickly adjust their bandwidth levels based on guest demand – often by simply placing a phone call.
Business Hospitality Internet – Offers a range of speeds to address changing needs, including download speeds of up to 100 Mbps and upload speeds of up to 10 Mbps. Additionally, the service equips IT departments with two modems – one for the property's back office and one for hotel guests – so they can better manage network traffic and maintain fast browsing speeds for guests surfing the Web.
Business Hospitality TV – Provides quality HD video service with up to 60 HD channels. Designed specifically for the hospitality industry, Comcast's HD video services are delivered via a single piece of equipment that enables property managers to remotely manage video feeds – simplifying upkeep and maintenance and providing for better design aesthetics, as set top equipment is no longer required in guest rooms.
Business Hospitality Voice – Provides hotel properties with full-featured phone lines, including call management and other advanced business functions.
Business Hospitality Trunks – Connects legacy PBX equipment with Comcast's advanced IP network, enabling hotels and motels – and their guests – to experience next-generation voice services. Property managers can also remain confident that their investments in existing technology will be protected.