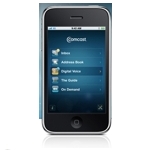 Comcast is rolling out the latest of a string of mobile applications for the Apple iPhone, one that enables remote programming of Comcast DVRs, SVP and General Manager of Communications and Data Services Cathy Avgiris wrote on the Comcastvoices blog yesterday.
The remote DVR programming app–available on Apple's iTunes Store–is part and parcel of Comcast's Mobile 2.0 application suite, which aims to make Comcast cable programming, Internet and voice services accessible anywhere via any device.
"The app, along with our HighSpeed2go 4G/3G wireless data service, FancastXfinityTV.com and Secure Backup & Share, are three recent examples of how we have made our products and services accessible in ways that were not possible even just a few years ago," Avgiris elaborated.
"The pace of innovation in our business is accelerating and Comcast remains committed to being on the leading edge of that change. Comcast Mobile 2.0 is part of that story and our customers now have access to one of the most comprehensive and robust 'triple play' apps that is available in the industry."