As it gets set for a limited launch tomorrow, Comcast has had to delay production of some of the original content planned for the launch of its Peacock ad-supported streaming video service because of the COVID-19 crisis.
Nevertheless, the company has not changed its launch schedule or financial projections for the service – in large part because the company expects the free service to have strong appeal at a time when people are sheltering at home.
With the majority of the U.S. populace staying at home, "the demand for content is at an all-time high," said Matt Strauss, chairman of Peacock and NBCUniversal Digital Enterprises, on a briefing with reporters today. "They're seeking out content that's comfortable, familiar, even nostalgic." This trend, he said, "plays to our strength."
Comcast reports a 50 percent increase in on-demand consumption year-over-year and voice remote searches for free content up nearly 250 percent.
Tomorrow's limited launch will make the Peacock premium service available to customers of Comcast's Xfinity video service and the company's Flex service – a streaming video offering offered at no charge to Comcast internet-only customers. Peacock will be available nationwide beginning July 15 as originally intended when plans for the service were announced in January, Comcast said.
Peacock customers who aren't Comcast customers will pay $5 a month for the premium version of the service, which includes 15,000 hours of programming. Alternatively, those customers can receive a more basic version with 7,500 hours of content at no charge. Both the premium and basic version include five minutes of advertising per hour, which means fewer ads in comparison with other ad-supported programming, Strauss said. An ad-free offering is also available for $5 more per month.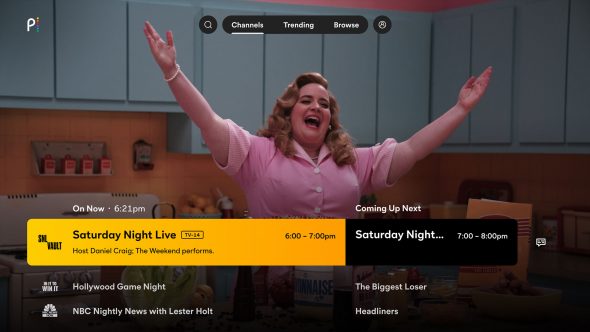 According to Strauss, Comcast initially set a target of having 10 sponsors for Peacock and already has hit that target. The sponsors include Capital One, L'Oreal USA, Molson Coors Beverage Company, Subaru of America, Verizon, Apartments.com, State Farm, Target and Unilever.
Today's press release includes several pages listing content that will be available on the service, including a wide range of television programming from NBC vaults, such as vintage and recent Saturday Night Live material. Also included are movies, news, kids programming and more.
Comcast Peacock Plan Changes
The changes that Comcast is making to its Peacock plans relate in large part to the original content that was originally planned for availability this year but instead will not be available until 2021 because of COVID-related production delays.
The company also had originally timed its Peacock nationwide launch to coincide with the Tokyo Olympics, which have been delayed.
Strauss doesn't expect any of this to impact revenue forecasts for the product, because he sees "turbulence in the economy" enhancing demand.
Noting that the industry already was experiencing "subscription fatigue," Strauss said, "a free ad-supported [offering] is more relevant than possibly at any other moment in time." Viewers, he said, are "seeking quality entertainment choices" that are "more affordable."