The COVID-19 pandemic is driving an extra day's worth of viewership across Comcast's network each week and even rearranging which are the most significant days, according to data released from Comcast about COVID-19 TV viewing .
Comcast says that viewership has increased from 57 hours to 66 hours per week and there has been a 35% increase in stream and web video consumption as well as increases in traditional television viewership.
In normal times, subscribers watch more on weekends than on weekdays. They also tend to use DVRs and on-demand content such as rented and purchased movies on weekends. This distinction has leveled out since the onset of the pandemic and the days are looking more similar. For instance, Monday has become a more popular viewing day than Saturday, Comcast said.
COVID-19 TV Viewing
Comcast also has seen a 40% increase in viewing during late night hours, which suggests that folks are saying up later. The largest increase is between 11 PM and 2 AM. The company also says that viewing during the 6 AM to 8 AM period has decreased by 6%.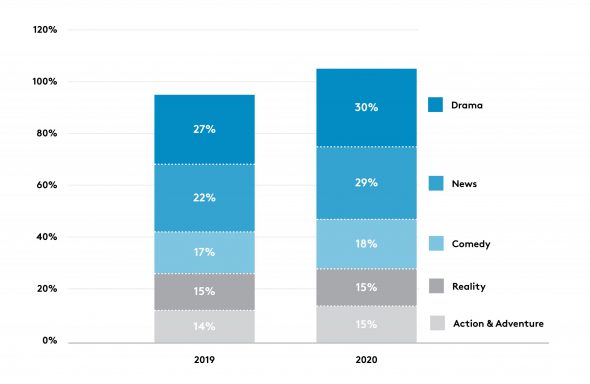 Other notable trends about COVID-19 TV viewing:
There has been an increase in what Comcast terms a "massive" 64% increase in consumption of news programming. The increase peaked during the week of March 30, which was the week when the COVID-19 cases passed the 1 million mark. It has leveled off since that point and there has been a 30% decrease in COVID-related voice commands.
Viewership of dramas has increased from 27% to 30%. It is followed by news (29%), comedy (18%), reality (15%), and action and adventure (15%).
DVR usage has experienced a slight decrease while VOD usage is up by 50%. There has been double-digit growth for "discovery-related" commands such as "what to watch" and "surprise me."
The provider reports a 57% increase in people logging onto xFi and a 27% increase in use of parental controls.
In a deeper dive into parental controls issued late last month, Comcast said that there has been a 43% increase in parents' activation of settings that filter web content while browsing and searching. The company said that use has increased from three to four hours per day and the number of times parents pause WiFi has grown 75%.