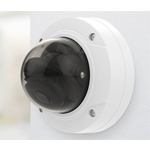 Comcast Business today announced the launch of Comcast Business SmartOffice Motion Insights, an application aimed at helping businesses understand and better react to how people move through their businesses. Comcast Motion Insights is part of the company's SmartOffice solution.
The idea is to leverage advanced motion detection analytics to make wise business decisions. "Our new SmartOffice Motion Insights dashboard will transform how businesses use and benefit from their video monitoring solutions," Christian Nascimento, the Executive Director of Premise Services for Comcast Business said in a press release. "No longer limited to just video recording, our advanced solutions are providing businesses with actionable intelligence they can leverage to improve overall business performance."
Comcast Motion Insights
An example is assessment of peak and non-peak foot traffic hours at the business. This information can be useful in staffing decisions. Each camera is represented in the dashboard, with a bar chart depicting the past eight hours of motion. One click launches the recorded footage from the beginning of the hour selected. Data also can be aggregated. Other ways to optimize the collected video and data are built into the platform, which is a free upgrade to SmartOffice video monitoring.
The modular nature of home and office technology platforms enables the addition of features such as SmartOffice Motion Insights in an incremental manner. These gradually make the platforms more feature-rich and therefore more attractive to end users.
Comcast Business continues to advance in serving business customers. Last November, the company said it is extending its DOCSIS 3.1 footprint to California, Colorado, Kansas, Minnesota, Missouri, Oregon, Utah, Washington state and the city of Houston. This makes the company's Business Internet 1 Gig and Business Internet 500 speed tiers available in the west, central, mid-Atlantic and northeast regions.
Last month, Comcast Business announced that it was selected by Dine Brands Global to provide managed services to Dine Brands' Applebee's Neighborhood Grill + Bar and IHOP restaurants in the United States. In all, more than 2,850 locations are covered.