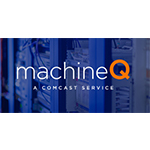 Comcast's machine enterprise IoT service has announced several new clients. Comcast machineQ is a scalable, B2B platform that uses LoRaWAN low power wide-area network (LPWAN) technology. Comcast is one of many cable MSOs who are aiming to seize on the growing IoT opportunity, given their extensive network reach.
"We're helping break down barriers to entry for B2B-focused IoT solution providers because our cloud-based, scalable and secure IoT hardware and software solutions have the ability to extract device data from hard to reach locations with low power requirements – that traditional wireless connectivity options can't offer," machineQ General Manager Alex Khorram said in a press release. "These qualities, are opening up a whole new world of use cases and vertical industries for our customers, leading to new market opportunities and helping them to quickly scale their business to meet their customers' demands."
Comcast MachineQ Customers
The new customers are:
FAIRWAYiQ, which provides real-time monitoring and management for golf courses, sports stadiums, municipalities, universities and resorts. machineQ will provide wireless delivery of data to managers on issues such as pace of play, employee scheduling and task benchmarking.
H2O Degree, which will use machineQ for tenant billing, water leak detection and energy analytics. The platform is expected to help the company expand its customer base.
Seco Sys, which is used by mining operations, campuses and utilities, will use machineQ for automatic meter reading, to support sensors for measuring water quality, temperature, pressure and tank levels. machineQ will be used with HydraLink Edge Computing devices.
SteamIQ, which will use the platform to support operation of radiators, water heaters, industrial kettles, refineries, sterilizers and turbines.
Vinduino, which will use machineQ to help companies manage water use in the vineyard and wine making industries. Remote operation of irrigation systems and crop management enables customization in response to changing climate conditions.
In March, five companies said they will use machineQ: Adveez (asset tracking), CareBand (geo-location), Neptune (water infrastructure management), Pansofik (facilities management) and Victor (pest control).
Last month, semiconductor and wireless company Semtech Corp. said it is working with machineQ in Philadelphia, Chicago, San Francisco, Atlanta, Baltimore, Boston, Denver, Detroit, Indianapolis, Miami, Minneapolis/St. Paul, Oakland, Pittsburgh, Seattle, and Washington D.C.