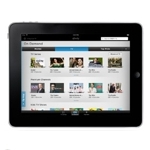 The TV wars are in full swing now. Comcast just announced that they'll enable live TV viewing and VOD access to the iPad and Android tablets "in the coming weeks." The move illustrates the growing number of tactics traditional video service providers are undertaking to compete in a quickly evolving marketplace.
The Xfinity TV iPad app will allow Comcast customers to watch VOD titles, including movies and TV shows on their iPad wherever they have access to a suitable broadband connection. The live TV streaming will be restricted to in-home viewing only (how long before that restriction is lifted?). At launch, 3,000 hours of VOD programming will be available, and Comcast intends to incrementally grow the availability of this VOD content.
"Live streaming and the play now feature on our Xfinity TV app are two important pieces of our strategy to deliver any content to any device, any time," said Brian L. Roberts, Chairman & CEO of Comcast Corporation. "Comcast has a series of upcoming online enhancements and app releases that are part of a much larger effort to reinvent how customers interact with their entertainment on TV, online and on mobile devices."
Comcast launched the first version of the Xfinity TV iPad app last November which allows remote programming of a customer's DVR, as well as acts as a remote control for the STB. It was first previewed at last year's Cable Show in May.
http://www.youtube.com/watch?v=yFUXq7DdGHE&feature=player_embedded
Cable MSOs like Comcast, and their telco and DBS competitors, are rapidly developing applications like the Xfinity TV iPad app to compete with each other, as well as with the growing number of OTT video upstarts.
Bringing content to the iPad (and Android tablets soon) ups the ante for Comcast. Comparable services from DISH and Verizon exist, although Verizon limits content choice to VOD titles only, at least for now. AT&T provides a similar service for the iPhone. The growing threat from OTT products from Apple, Google, Boxee, Roku and others don't match content portability, at least not yet, providing Comcast and others a 'trump card' of sorts in the ever evolving TV wars.