Two companies with broad ambitions took what could be a significant step as Comcast has launched a YouTube app on Xfinity X1, according to the two companies.
Access to YouTube's massive video inventory will be available through Comcast's X1 platform, and searchable through the X1 voice remote. Videos from its library will be featured throughout Xfinity on Demand. "By adding billions of YouTube videos to our video platform, we are taking our role as the aggregator of aggregators to a new level and reaffirming that X1 is the best place to easily discover and access all types of entertainment with the sound of your voice," said Matt Strauss, Executive Vice President, Xfinity Services, Comcast Cable in a press release.
Making it easy via voice control the voice functionality appears to be key since it is less likely that people would surf for their desired programming while watching television than when using a computing device. "Voice is a key enabler to discovery and we are looking forward to bringing it to Xfinity X1 users," said Robert Kyncl, YouTube's Chief Business Officer in the press release.
The aggressive partnering between content companies and service providers continues. The relationship between YouTube and Comcast was announced in February. On Jan. 31, Roku announced a similar relationship with YouTube. YouTube, meanwhile, in April took the wraps off its own channel. YouTube TV launched in New York City, Los Angeles, the San Francisco Bay area, Chicago and Philadelphia. Many additional markets have launched since.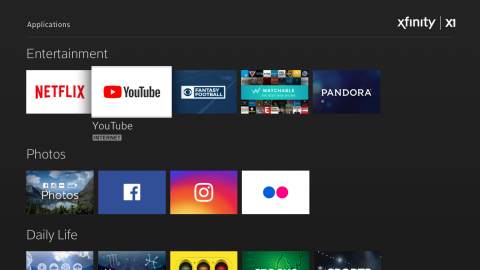 Comcast's goal, more broadly, is "owning the home," according to Matt Strauss, the executive vice president of Xfinity Services for Comcast Cable. Strauss, who addressed a financial conference, suggested that the television may become a display that facilitates a number of household activities, such as use as screen to view a person ringing the doorbell if the house subscribers to Xfinity Home.
Entertainment television clearly will remain a main element of this strategy — and YouTube could play a key role. Comcast's Instant TV trials demonstrated the while mobile is important, it is necessary to have a television offering and that there must be a way to add content to skinny bundles. The presence of YouTube could make such offerings far more attractive.
The once staid television landscape is changing in fundamental and unpredictable ways. The migration of YouTube from desktop and mobile devices to televisions – including those controlled by Comcast — could be a significant step.