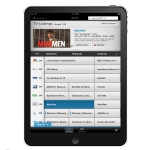 iPad users now have a new reason to choose Comcast cable—and Comcast video subscribers now have a new reason to buy the iPad–as Comcast today announced a free app for the iPad that will enable the iPad to act as a remote control for Comcast digital video recorders. The new app is scheduled to be available through the iTunes store this week. Beginning in December, Comcast said, subscribers also will be able to view select cable television and on-demand content on their iPads by using the app.
The new app builds on capabilities demonstrated by Comcast CEO Brian Roberts at the NCTA cable show in Los Angeles in May. At that time the company was calling the app Xfinity Remote to emphasize its ability to act as a remote control and program guide.
The app released today carries the name Xfinity TV, perhaps to emphasize its ability, beginning in December, to access a wide range of entertainment options that have been available on-line under the same name to Comcast video subscribers since last month. That content includes what today's announcement called "top movies and premium cable shows."
Also in today's announcement, Comcast Cable President Neil Smit said, "This Xfinity TV app is part of a much larger effort to reinvent the way consumers interact with their televisions by transforming the way they search, navigate, discover and share entertainment. . . . This app will enable millions of consumers to instantly search thousands of live TV and On Demand choices and also watch the best content whenever and wherever they want."
Also on the roadmap for the iPad app is the ability to personalize viewing with a "MyTV" feature to create a "watchlist" of favorite TV shows and movies and to seamlessly access social networking sites so users can let others know what they are watching. In addition, Comcast plans to release apps similar to the new Xfinity TV app for the iPhone and iPod Touch and for the Android mobile and Blackberry platforms, as well as for "other smartphones, tablets, laptops and PCs." A list of the iPad App features (as provided by Comcast) is below:
Browse and discover video content from either TV listings or selections from the On Demand library in a rich user interface with colorful poster art and details.
Use it as a TV guide so, in just a few finger taps, users can find what to watch by reviewing their TV listings and change the channel in real time.
Program their DVRs to record TV shows, series and movies so they never miss their favorites.
Sort content based on different filters like Networks and Genres such as Movies, Kids, Sports, or by HD content.
Search by keyword or by title A-Z in TV listings or On Demand.
Watch movies and TV shows directly on the iPad anytime, anywhere (coming in December).
Personalize viewing with a "MyTV" feature to create a "Watchlist" of favorite TV shows and movies (coming soon).
Seamlessly access social networking sites to share what they're watching with others (coming soon).
Ironically the Comcast announcement comes just days after a report from TDG Research found that a third of iPad users were contemplating canceling their pay TV service—presumably in favor of on-line video content–within the next six months. Comcast is betting that the wider range of content available through Xfinity TV will cause subscribers with and without iPads to think twice about cutting the video cord.
If TDG conducts a follow-up survey in six months, it will be interesting to see to see whether iPad owners cut the cord as extensively expected and whether the new Comcast app–or others like it that other cable companies also may launch—are a factor in that decision.