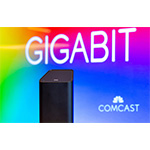 Intel and Comcast are partnering to enable gigabit and beyond broadband, with a focus on building a modern and adaptable communications infrastructure in the home, the two companies announced at CES today. The Comcast Intel connected home partnership entails delivering gigabit speeds from Comcast's xFi Advanced Gateways to PCs based on 8th Gen Intel Core processors with integrated Gigabit Wi-Fi, providing Wi-Fi with up to 12 times faster connectivity speeds for faster sharing, streaming and downloading.
Intel and Comcast are also working together to drive the adoption of Wi-Fi 6, which is expected to provide faster and more responsive Wi-Fi.
"The next wave of powerful connectivity to the home and within the home becomes more real today through the partnership between Intel and Comcast. We are working together to lay the foundation for more powerful home networks and an intelligent network infrastructure that makes new immersive experiences possible," said Gregory Bryant, Intel senior vice president and general manager of the client computing group.
Comcast Intel Connected Home Partnership
"With connectivity increasingly at the center of our homes and lives, we're focusing on redefining what people should expect from broadband service, delivering world-class speed, comprehensive Wi-Fi coverage and unique tools for customers to control their digital lives," said Tony Werner, Comcast Cable president, technology, product, Xperience, in a prepared statement. "Through our partnership with Intel, we're not only delivering outstanding connected home experiences today, we're building a platform to power the ultra-connected future."
An Intel press release outlined their vision for what this partnership may enable:
Sports and entertainment content: The distribution of cutting-edge immersive content across sports and entertainment, to deliver viewing experiences like never before, starting with the Olympic Games Tokyo 2020.
VR gaming: A new tier of responsive virtual reality gaming experiences by optimizing the graphics processing between PCs and home gateway or network edge.
Volumetric content: Using Intel® RealSense™ technology and Intel Xeon processor-based servers, Comcast will be able to cost-effectively capture, process and deliver volumetric content in real time for smaller scale implementations – like training videos – to make high-quality, three-dimensional video content accessible to a broader set of people.
360 video: With Intel's video and networking expertise, Intel Xeon processor-based servers and Intel's graphics accelerators, Comcast will expand its rich media services and deliver more immersive content, such as streaming high-resolution 8K content.
The two companies see the partnership as important because it is estimated that each person, not household, in North America will have 13 or more connected devices by 2022, meaning increasing demands for high-resolution content streaming, gaming and other capabilities.
Both companies were somewhat vague in outlining a timeline of when Comcast customers will gain access to these enhancements.