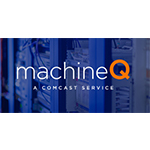 Comcast announced yesterday that it has extended the Comcast MachineQ IoT (Internet of Things) platform to 12 additional U.S. markets.
MachineQ uses LoRaWAN protocol to support widely distributed IoT endpoints. The LoRa technology, which is being supplied by Semtech, meets the significant challenges of IoT deployment, according to Comcast.
"We've seen excitement about a Comcast solution that is opening a whole new world of use cases that were previously not commercially viable due to the cost of connectivity and end devices, limited battery life, and inability to get coverage," said MachineQ General Manager Alex Khorram in a press release.
Comcast MachineQ IoT Service
The markets to which machineQ is rolling out are Atlanta, Baltimore, Boston, Denver, Detroit, Indianapolis, Miami, Minneapolis/St. Paul, Oakland, Pittsburgh, Seattle, and Washington D.C. The initial MachineQ announcement was made last October. At that point, Comcast said it would launch business trials in Philadelphia and the San Francisco Bay by the end of 2016. Chicago was later added.
The goal is to support businesses and municipalities. Comcast says that organizations in the healthcare, public utility, automotive and smart city sectors have expressed interest in the service. It represents an interesting competitive dynamic, where Comcast is entering a market that traditional wireless carriers have identified as a growth opportunity unique to them.
The overall theme for this massive IoT type application are the same: A dense universe of sensors can produce data that can be fed into Big Data and analytic engines to provide insights that can drive efficiencies, reduce costs and improve services offered to end users.
An example: Sensors in an office may detect that a conference room is lit all day but largely unused. Simply installing an occupancy switch that turns the lights off when no motion is detected will save a few dollars a year. Such simple steps, extrapolated over thousands of similar mundane situations, can lead to significant savings. Other uses can be more dramatic. Sensors deployed on production line equipment in a factory can be programmed to send an alert if changes in a machine's vibration pattern suggest an imminent failure. Addressing the problem before the failure can save thousands of dollars by keeping the line running.
The most expansive vision of the IoT only will be realized if ways are found to support millions and even billions of end points, many of which may be difficult to reach. Doing this requires ubiquitous networks that run on extremely low power while offering bidirectional operations and other advanced features.
There are a number of emerging options to link these services. For instance, T-Mobile said earlier this month that it has completed testing of Narrowband-IOT in Las Vegas and is rolling out services to the city.