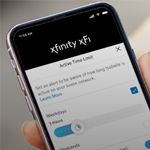 Parents have an improved tool in the battle to control their kids' online lives. Comcast has released an enhanced tool for its Xfinity broadband service that automatically cuts WiFi access once the child has reached a set limit.
"Xfinity xFi was designed to provide simple tools to help our customers see and control all the things connected to their home WiFi network," said David Puckett, the Vice President of xFi and Digital Security Product Management for Xfinity, said in a press release. "As a dad with four kids, I know how hard it can be to keep tabs on how long everyone has been online every day, especially during the summer.  This latest feature is a great way for parents to better manage their children's screen time."
Research cited in the press release suggests that the enhanced parental control will get a positive response – at least among the grownups. It says that Common Sense Media found that 68% of parents feel their teens use mobile devices too much. The new feature enables parents to set a specific amount of use time, after which the connection is paused.
Ways in which parents can control their kids' use of media of course predates the explosion of mobile devices. In a different but related move, Verizon in April launched Just Kids, a plan aimed at the younger set that is designed to enable parents to easily track where their kids are, set limits on how much time is spent online and, through content filters, control what content they can access.
In May 2018, Comcast partnered with Internet Essentials and the Conference of Western Attorneys General to address challenges faced by children, as well as seniors and parents, online. In addition, Comcast said at the time that it would support several national nonprofits, including the Family Online Safety Institute, Common Sense Media – the organization whose research was quoted in this week's announcement – and Older Adults Technology Services (OATS).