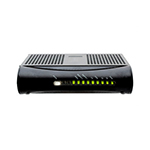 Comcast on December 22 announced it has installed what it believes to be the world's "first DOCSIS 3.1 modem on a customer-facing network" in Philadelphia. The move represents another step towards a Comcast DOCSIS 3.1 gigabit broadband future.
Comcast's gigabit-speed modem utilizes its recently upgraded hybrid fiber-coaxial cable network, Comcast EVP and CTO Tony Werner highlights in a company blog post.
Illustrating what Comcast hopes will give it gigabit competitive advantage, Werner explains the "…test used the standard cable connections that we have in homes across the country. All we needed was a new modem, a software upgrade to the device that serves that neighborhood, and a few good engineers." Most of their competitors have costly fiber overbuilds to achieve gigabit capability.
Comcast DOCSIS 3.1 Gigabit Deployment Plans
These initial trial installations will be tested over coming months as Comcast readies to install the gigabit modems and use DOCSIS 3.1 for its next generation broadband service. The Comcast DOCSIS 3.1 gigabit deployment plans include additional trials in Atlanta, northern California and Pennsylvania.
By the end of 2016, Comcast expects to be offering a new gigabit speed service that works over existing connections in customer homes in several unnamed parts of the country.
In previous separate gigabit deployments, Comcast's Gigabit Pro service provides symmetrical 2 Gbps using FTTH technology across select markets. By leveraging DOCSIS 3.1 for gigabit, Comcast can bring the service to a much wider footprint.
DOCSIS 3.1 has the advantage of being backwards compatible, Werner highlighted. Among other benefits, it means Comcast, as well as other cablecos looking to make use of DOCSIS 3.1, don't need to undertake time-consuming and costly retrofit procedures, which might include digging up streets or yards.