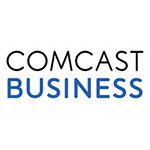 Comcast Business has joined the ranks of service providers helping work from home (WFH) employees remain productive during – and no doubt after – the COVID-19 pandemic with a service promising the same level of security and services that is available in a traditional office setting. The company calls Comcast Business at Home "a dedicated, enterprise-grade and business-paid" approach. The company says that the service provides reliability, flexibility, convenience, mobility and security.
"Providing remote employees with dedicated, in-home, enterprise-grade connectivity that is separate from their residential network can help businesses increase productivity and flexibility," Christian Nascimento, Comcast Business's Vice President of Product Management, said in a press release about Comcast Business at Home. "We look forward to continuing to evolve this offering to address the unique challenges facing business customers of all sizes. Comcast Business At Home is just one more way we're keeping our customers and their businesses connected."
Comcast outlined these dedicated connections as offering:
Reliability – Comcast Business At Home provides a professionally installed, dedicated, fast and reliable Internet connection with no data usage threshold and a separate WiFi network and SSID (static IP optional);
Flexibility – With no minimum or maximum number of users, businesses can add as many employees as needed, across multiple locations;
Convenience – Each employee's service is billed to the company's Comcast Business account;
Mobility – Available on-the-go voice solutions that allow employees to route calls from their business number to any device;
Security – Available cybersecurity solution to help protect devices connected to the network from malicious threats.
Last week, AT&T Business made a similar move. The company said that its Home Office Connectivity uses wired and wireline infrastructure within the AT&T footprint to provision home offices with AT&T High Speed Internet for Enterprise and services such as AT&T Internet Backup for failover, the Global Security Gate and Static IP addressing.
Clearly, Comcast and AT&T – and, no doubt, other carriers – see a huge opportunity in both the short-term and long-term. Such services will be in demand as organizations dig in to ride out the pandemic. For these offerings to thrive, however, two elements present in both service providers' offerings seem like must-haves. Such services must offer high levels of security and connectivity that is distinct from the homes' residential service.