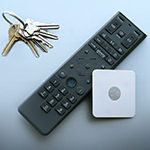 The latest example of Comcast's strategy to "own the home" is the company's announcement today of a partnership with Tile, manufacturer of devices that help find lost objects. The Comcast Tile deal will enable Comcast customers to use their Xfinity X1 voice remote control to locate Tile-enabled objects and see the location on their television screen.
Comcast Tile Integration
A Tile video features a young girl describing how she finds toys using an app on her father's smartphone, which uses Bluetooth to communicate with keyfob-like "Tiles" connected to the toys.
As a press release explains, "when a child arrives home from school, a parent can simply say, 'Xfinity Home where's Sam's backpack?' into their voice remote and see that [the backpack] was left at school." The location displayed is the "last known location and address" of the Tile, the press release says.
[embedyt] https://www.youtube.com/watch?v=xAN44SBWktw[/embedyt]
According to the release, the average person spends more than 60 hours a year looking for misplaced items. 
X1 and Owning the Home
Since introducing X1 voice remote control in January 2017, Comcast has called the platform "transformational" and has credited it for, among other things, reducing churn and improving customers' perception of the company. 
As a company exec explained at an investor conference last year, Comcast also sees the X1 platform driving customers to leave their television set on all the time so that the television screen can serve as a display for various systems and applications in the home, furthering Comcast's goal of "owning the home."
In pursuit of this strategy, Comcast has inked deals to enable X1 voice remote control of offerings such as YouTube, the Pandora streaming music service and now Tile. Making the Comcast home security offering controllable via X1 voice commands is also on the Comcast roadmap. 
The cable company is up against some tough competition in the voice control market, of course. Internet giants Google, Amazon and Apple also have set their sights on using voice control to own the home. Their offerings, known as smart speakers or digital assistants, are catching on quickly and are gaining more and more capabilities, which helps to explain Comcast's rash of deal-making involving X1 voice control.
A web search reveals that both Google and Amazon already have integrated their offerings with Tile.
It would be interesting to know how well offerings such as Google Home and Amazon Echo are selling in households that already have the Comcast X1 voice remote control. I haven't seen any data on that, but it could be a good indicator of how consumers view the Comcast platform in comparison with those offerings.
In the meantime, expect to see Comcast making many more deals like the ones involving YouTube, Pandora and Tile.