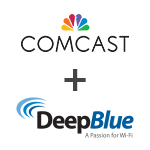 Comcast has completed the acquisition of Deep Blue Communications, a company that engineers, installs and manages commercial Wi-Fi networks. Terms of the Comcast Deep Blue deal were not disclosed.
Comcast said the acquisition will allow the company to better combine its network solutions with intelligent, managed Wi-Fi in a way that will generate efficiencies for businesses and differentiated experiences for customers.
"Customers will benefit from our expertise in advanced business and network solutions with Deep Blue Communications' know-how in providing commercial, managed Wi-Fi at scale," Comcast Business President Bill Stemper said in a press release. "We look forward to delivering innovative solutions that will drive competitive advantage and growth in key vertical industries such as hospitality and entertainment."
Deep Blue Communications, which is based in Latham, NY, has made the INC 5000 list of fastest growing companies for the past seven years.
Comcast has a significant business and enterprise focus. The cable MSO generated $1.89 billion in business services revenue in 1Q 2019. In March, the company said it had acquired BluVector, a company that uses artificial intelligence and machine learning to provide cybersecurity protection to companies and government agencies. The company detects, analyzes and controls sophisticated cyber threats such as fileless malware, zero-day malware and ransomware.
In October, Kevin O'Toole, Comcast Business' Senior Vice President of Project Management, said that gigabit capability is available to 96% of the company's footprint. He also extolled the virtues of SD-WAN technology.
Comcast, of course, is not the only cable operator aggressively courting business customers. In April 2019, Cox Business announced a managed business Wi-Fi service. Cox Business Managed Wi-Fi was to be deployed across the national Cox Communications footprint. The offering features speeds as fast as 1 Gbps for both private and public Wi-Fi networks.