As the U.S. gets set to ban certain Chinese manufacturers from selling telecom equipment to U.S. service providers, CoBank is warning that rural Americans' access to communications services could be damaged if insufficient funding is available for rural service providers to replace prohibited equipment already installed in their networks.
CoBank is a key lender to rural service providers, who are the main users in the U.S. of wireless network equipment from Chinese vendor Huawei. That company is expected to be on the prohibited list, as some parties have expressed concerns that the Chinese government could use the equipment to spy on the U.S. CoBank estimates that the cost of replacing Huawei gear may be higher than the funding the government is expected to provide.
In mid-May, President Trump signed an executive order that gave the Commerce Department 150 days to establish rules to identify companies to be banned, observes CoBank in a four-page report titled "Equipment Ban Creates Static for Rural Telecom Operators." Although those rules have not yet been finalized, Huawei is expected to be banned.
U.S. legislators have introduced a bill that would provide up to $700 million to help carriers remove Huawei equipment from their networks and replace it with equipment from other sources. But a CoBank analysis estimates that cost at more than $1 billion for the 30 service providers identified as using Huawei equipment.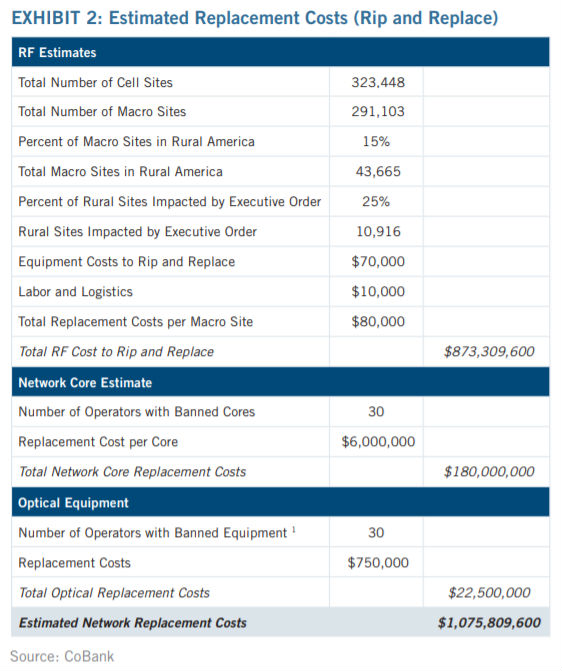 "Even if the government does not require a rip and replace, some operators may still be forced into doing so," CoBank notes in the report. "Because manufacturers typically interpret industry specifications differently, mixing and matching vendor equipment in a network can cause problems."
Major carriers in some other parts of the world use Huawei and have required the manufacturer to ensure that its equipment interoperates with other major vendors but that hasn't happened in the U.S. because major carriers opted not to use Huawei when potential espionage concerns initially were raised several years ago, the report notes.
Many of the companies that use Huawei consulted with the FCC and the USDA Rural Utilities Service before making their purchase decision, CoBank says. "When rural operators got the green light to work with Huawei, they believed they were being good stewards of their government subsidies to build communications networks," the report states.
CoBank advises network operators using Huawei equipment to consider using a virtualized approach as a replacement. By using virtualization, operators may be able to avoid paying licensing and software upgrade fees to their suppliers and to mix and match vendors, the authors note.