OTT video is evolving, and emerging virtual pay-TV operators are in a pitched battle to grow their subscriber base. Increasingly, cloud DVR is seen as a necessary weapon.
The virtual pay-TV landscape is getting quite crowded. There are at least four current virtual providers of traditional cable TV service delivered over-the-top, including Sling TV, DIRECTV NOW, PlayStation Vue, and fuboTV. Amazon Video is dabbling a bit in this space too, with Amazon Video Channels. There are more to come, including efforts from YouTube, Hulu and CenturyLink.
That's seven, possibly eight virtual pay-TV competitors – and that's just the ones we know about. DVR looks to be a necessary component to remain competitive in this crowded group. Traditional OTT providers like Netflix don't need DVR service, since all of their content (for now anyway) is on-demand.
Sling TV Cloud DVR
The latest effort comes from Sling TV, which has a DVR in a closed beta. Sling just announced they're opening that beta a bit, and inviting Amazon Fire TV platform users to join the DVR beta, but for a price.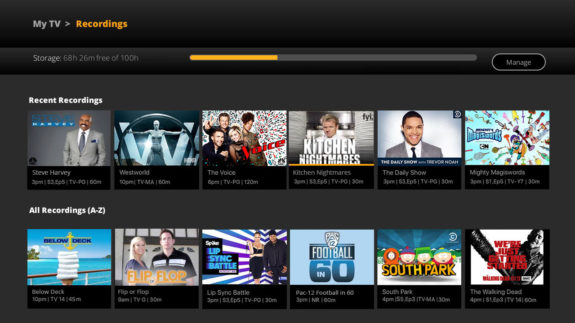 Sling TV is charging a $5/month 'First Look' fee for this new DVR trial. There is no indication if that will be a permanent monthly charge for DVR. Features included for this $5 fee include 50 hours of recorded storage and the following (according to their press release):
No recording expirations – Customers may keep their recordings as long as they subscribe to DVR.
Entertainment on your time – Record movies, sports, news, episodes and full series, with the ability to pause, rewind or fast-forward recorded content. Cloud DVR functionality not available on all channels.
Conflict-free recording – Users may record multiple programs simultaneously, with no recording conflicts.
Easy access – Cloud DVR content is integrated directly into Sling TV's "My TV" screen for immediate access to recordings.
Simple space management – Sling TV manages Cloud DVR space to make room for new recordings by deleting the oldest 'watched' recording when capacity is full.
Competing with Cloud DVR
Among the four current virtual pay-TV providers, only PlayStation Vue and fuboTV have cloud DVR available to all customers. Neither of them charge an additional fee for it though, making Sling TV's approach an interesting test.
DIRECTV NOW promises DVR is coming, but offers no timeline. Forthcoming YouTube TV says they will offer a DVR with unlimited storage, but at no additional cost.
PlayStation Vue's DVR offers storage of unlimited shows, but automatically deletes shows after 28 days. fuboTV's cloud DVR is severely limited to the channels it can record, currently only offering cloud DVR on 6 of their 45+ channels, none of which are popular entertainment channels.
As these virtual pay-TV operators look to entice cord cutters into leaving traditional pay-TV and embracing virtual pay-TV, cloud DVR will grow in importance. We're now witnessing the posturing of cloud DVR, as these providers test the waters for the best approach. I'm not sure the market can support so many virtual providers, so perfecting the right cloud DVR approach may help determine who survives over the long term.