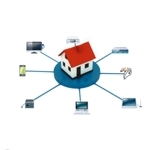 Cloud-based home management systems will expand 8-fold from 2013-2018, driven by a confluence of technological, economic and social factors, according to new market research from IHS Technology.
The market for cloud-based home management systems and services has developed fastest in North America in terms of user numbers, IHS highlights in a news release.
Combining smart home and professional monitored security systems, security system providers such as ADT and Vivint have been at the forefront of market development and growth. Companies in the cable and telecom sectors such as Comcast and AT&T, as well as utilities and Internet technology leaders such as Apple and Google, are also active in the market, which will fuel growth in coming years.
Cloud-based Home Management Forecast
"Imagine using your smartphone or tablet to detect an intruder in your home or to adjust the temperature in your living room—no matter where you are," Lisa Arrowsmith, IHS associate director, connectivity, smart homes and smart cities, was quoted in a news release. "Cloud-based home management makes all this possible, and much more. With a wide range of companies offering such solutions, the cloud-based home management system business will expand dramatically in the coming years."
Globally, IHS forecasts the installed base of cloud-based home management services will grow from 5.6 million at the end of 2013 to 44.6 million by the end of 2018, surging 63 percent higher this year to reach 9.1 million.