CenturyLink, Inteliquent, AT&T and other network operators got some bad news today in the form of a climate change and telecom report released by researchers at the University of Wisconsin- Madison and the University of Oregon. The researchers project 4,067 U.S. miles of fiber conduit and other U.S. internet infrastructure to be underwater by 2033, and they note those three companies have the most infrastructure at risk.
Researchers expect 1,101 points of presence and colocation centers to be surrounded by water by 2023. The metro areas most at risk include New York, Miami, Seattle, Houston and Washington in that order, according to the report titled "Lights Out: Climate Change Risk to Internet Infrastructure."
Assuming these predictions come to pass, the report posits several potential risks including:
Signal attenuation due to water molecules embedding in fiber micro-cracks
Corrosion damage to connectors
Signal loss in optical-electrical-optical connections
Fiber breaking due to freezing
Climate Change and Telecom
The authors of the climate change and telecom report created their projections by comparing internet infrastructure location data from the University of Wisconsin's Internet Atlas with sea level rise inundation (SLRI) data from the National Oceanographic and Atmospheric Administration (NOAA) of the U.S. Department of Commerce.
The map below illustrates the impact of NOAA's forecasted sea level rise of one foot by 2033 along the heavily populated east coast. Submarine, metro and long-haul fiber optic cables/conduits are shown in red, green and black lines, respectively.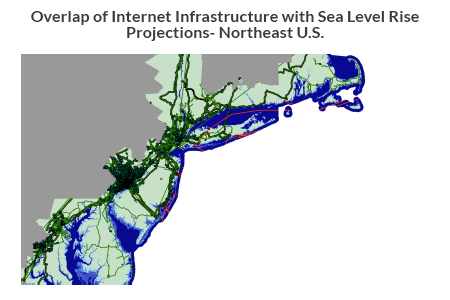 The authors note that the majority of fiber at risk of being underwater by 2033 is metro fiber but that damage to long-haul fiber would be the most disruptive. The report makes several recommendations for what it calls "mitigation planning." These include hardening critical infrastructure in vulnerable areas and exploring the possibility of integrating inter- and intra-domain routing substrate to create backup and alternative routes to reduce the impact of coastal infrastructure failures. The authors also recommend that future deployments of internet infrastructure be made with the impact of climate change in mind.
Ominously, the researchers argue that "[t]hese plans must include consideration of issues including new rights of way, costs and projections of how populations will move."