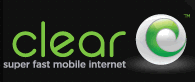 Clearwire reached the 500,000 subscriber mark with the addition of 25,000 in 1Q09. The first market launch of the company's CLEAR WiMAX mobile broadband for 2009 resulted in subscriber sign-ups at more than double the rate of the company's previous 51 market launches. "We are ushering in the next-generation of services providing a rich and unconstrained digital experience by delivering broadband Internet access through a quickly growing array of new devices and applications that take advantage of speed and mobility in exciting, unanticipated ways. As we extend our network to many more cities during the next two years, we believe CLEAR will be the first truly pervasive mobile broadband service, unlocking the true potential of the Internet for our customers and providing Clearwire tremendous opportunities for long-term growth," said CEO William T. Morrow said in a media release.
Clearwire's Q109 revenues rose 21%, to $62 million, off the back of a 13% increase in subscribers, the newly reformed mobile broadband services provider reported May 13. ARPU increased 7% to $39.52. The company is still operating at a loss, but is losing money at a slower rate as it seeks to build its network and a recurring revenue base. Its 1Q09 loss in adjusted operating income before depreciation and amortization (OIBDA) narrowed 12% to $144 million. Unadjusted operating loss totaled $233 million. Net loss for Q1 came in at $71 million, -$0.38 per common share fully diluted. The company ended the quarter with cash and short-term investments of more than $2.8 billion and plans to spend $1.5 billion to $1.9 billion this year.
Points of presence (POPs) covered by Clearwire's CLEAR mobile broadband network grew by more than 20% to 20.6 million as the company races to expand its WiMAX-enabled network, realize operating efficiencies through systems integration and take advantage of new WiMAX-enabled CLEAR Spot devices and accessories.
Clearwire expects to launch a CLEAR service in the Atlanta market in June. A launch in Las Vegas is slated for this summer, with launches in Chicago, Philadelphia and Dallas/Ft. Worth later this year. It's also planning network and service upgrades in Baltimore, Seattle, Honolulu and Charlotte this year. Longer term, it's aiming to provide WiMAX coverage for up to 120 million people in the US across 80 markets by the end of 2010. The number of cell sites under design and development now totals 19,000.
Time is of the essence for Clearwire as it seeks to take full advantage of the head start WiMAX has over cellular telecoms providers who favor the LTE alternative to providing next generation 4G mobile broadband.