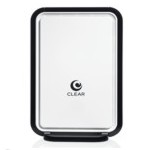 Clearwire today announced the introduction of Clear Modem with Wi-Fi, a combination wireless broadband modem and Wi-Fi access point. With broadband connections to Clearwire's expanding CLEAR 4G network, the book-sized device delivers Internet access at 3-6Mb/s with bursts up to 10Mb/s and simplifies setting up wireless local/home area networks making use of IEEE 802.11 b/g/n, according to a news release.
Priced for purchase at $120 or leased for $7/month, the Clear Modem with Wi-Fi is now available online as well at CLEAR retail outlets and those of authorized dealers. Monthly unlimited data service plans start at $35/month. For another $15/month, customers can add home voice service with unlimited local and long distance calling in the US, Canada and Puerto Rico.
The new device is the latest in Clearwire's "wireless connectivity everywhere" drive as it strives tojustify wireline broadband cord-cutting in US homes. "Now our customers can get broadband Wi-Fi internet throughout their house, with one simple device about the size of a book – and without a rat's nest of wires," Mike Sievert, chief commercial officer, was quoted as saying. "Our new Clear Modem with Wi-Fi makes it easier than ever to connect the Wi-Fi devices that customers already have at home, such as laptops and desktops, tablets, iPods, and smartphones, without needing a wired connection to the cable or phone company."
The broadband modem/wireless access point is one of nearly 70 devices on the market that provide access to the CLEAR 4G network, according to Clearwire. These include personal mobile Wi-Fi access points dubbed Clear Spots and the Clear 4G+ Mobile USB plug-in, as well more than 45 different laptops and netbooks with embedded WiMAX chips.