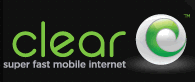 Now focused on building out a nationwide wireless 4G-broadband WiMAX network, the new Clearwire reported pro forma Q408 and full-year 2008 results today.
"We completed a transaction with Sprint Nextel that rationalized our spectrum holdings into a nationwide footprint and gave us access to Sprint's existing infrastructure to facilitate our network deployment. We raised more than $3 billion of new capital and entered into wholesale distribution arrangements with Sprint and leading cable companies, creating an expanded reach for our services well beyond what Clearwire could accomplish on its own," CEO Benjamin G. Wolf stated in a news release.
The 'new' Clearwire is in the midst of building out mobile WiMAX networks covering 75 million people along with longer term cell site development work to cover an additional 45 million and reaching a target 120 million people by year-end 2010. Now available in 47 markets, management aims to introduce their 'Clear' brand mobile broadband services in Atlanta, Chicago, Charlotte, Dallas/Ft. Worth, Honolulu, Las Vegas, Philadelphia and Seattle, among others this year. Boston, Houston, New York, the San Francisco Bay area and Washington D.C. are on the list for 2010, according to the company's news release.
Pro forma consolidated revenue — the result of combining the results of the 'old' Clearwire and Sprint WiMAX businesses for the respective periods — rose 32% to $59.7 million for Q4 2008 as the company's subscriber base grew to approximately 475,000, an increase of 81,000 from the end of Q407.
Pro forma consolidated Average Revenue Per User (ARPU) came in at $39.70, $3.61 higher than the year-ago quarter. Pro forma Cost of Service increased 6% due to ongoing build out of the Sprint WiMAX network while pro forma Selling, General and Administrative expense fell to lower gross subscriber additions as management slowed down its sales and marketing efforts.
For the year, pro forma consolidated revenue totaled $230.6 million, 52% higher than 2007's result and driven by subscriber growth of 21% and a $2.31 increase in ARPU year-to-year, according to management's report. Pro forma cost of service rose 83% to $285.8 million from $156.1 million in 2007 as the company increased active cell phone tower leases as Clearwire launched and prepares to launch, mobile WiMAX in new markets around the country.
A 'new' Clearwire was formed last November 28 with the pooling of broadband wireless network-related assets and capital from the 'old' Clearwire, Sprint Nextel, Comcast, Time Warner Cable, Bright House Networks LLC and Intel.
In addition to seeing through its ambitious network expansion plans, Clearwire intends to introduce a dual mode 3G/4G modem this summer that will give "Clear" subscribers connectivity nationwide by automatically shifting between available 3G cellular and 4G WiMAX networks.