Frontier received approval from the California PUC for its acquisition of Verizon territory in that state. This approval was the last remaining regulatory hurdle for the historic acquisition, which is now scheduled to close in March 2016. The deal will dramatically increase Frontier's size and footprint.
The $10 billion transaction takes addressable homes for Frontier to 14.5 million, from 8.5 million at the time the deal was announced in February 2015. Frontier will now serve approximately 4.5 million broadband connections (up from 2.3 million) and 1.8 million video connections (up from 611 thousand).
These Verizon markets have a considerable FiOS customer base, and after the acquisition, 31% of Frontier's homes passed will be FTTH or FTTN (U-verse) capable, up from 14%. The new markets are clustered in California, Texas and Florida.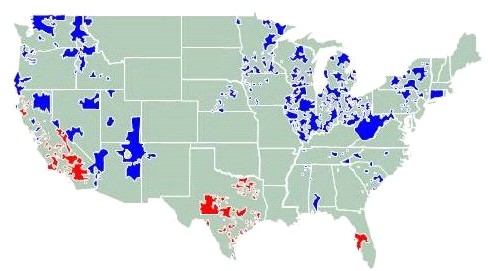 Frontier Revenue Impact
At the time of the transaction, Frontier projected pro-forma revenue post-acquisition would rise to $11.66 billion, from $5.87 billion, essentially doubling annual Frontier revenue. Employee head count will rise to 28,400 from 17,400.
Frontier has been prepping for this transaction, and gained extensive experience form a previous 2010 Verizon transaction, which nearly doubled the size of the company once before. That cut over was not without its challenges, especially in West Virginia.
Frontier also didn't particularly embrace some aspects of FIOS service, notably video services. But that posture has seemed to change, with Frontier now very much embracing IPTV.
This time around, Frontier has noted it should be business as usual after they cut over these new Verizon FiOS territories.