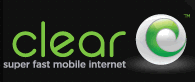 Clearwire announced the official launch of its new company, having completed the transaction with Sprint Nextel "to combine their next-generation wireless Internet businesses." Clearwire is also in receipt of the $3.2 billion investment from key partners including Comcast, Google, Intel, Time Warner Cable, and Bright House Networks. "With significant spectrum holdings yielding unmatched network capacity, a next-generation all-IP network, and an open Internet business model, Clearwire will deliver a simple value proposition aimed to improve productivity and make the Internet experience more enjoyable, wherever our customers happen to be," said Clearwire CEO Ben Wolf in a company statement.
Perhaps the biggest news of the day is the launch of the new brand "Clear." Clear will replace Sprint's XOHM brand, and will be marketed as Clearwire's mobile WiMAX product. Clearwire will still be the official company name and will also be used as the brand in existing "pre-WiMAX" markets. But once those markets migrate over to true mobile WiMAX, the Clear brand will be used. Cable partners including Comcast, Bright House, and Time Warner Cable will be able to brand their mobile WiMAX product as they see fit.
Other news of note from today's announcement:
Portland, Oregon is the next Clear market, scheduled to go live in 1Q09
Clearwire customers will be able to roam onto Sprint's existing 3G network with Clearwire branded 3G/4G dual mode devices
Clearwire cable partners have a footprint of 100 million potential homes for a wireless broadband product
Clearwire intends to have an "open" network, allowing any standards based WiMAX enabled device to roam on to it, regardless of service provider
On a conference call announcing the news, Wolf said Cleawire has the "opportunity to reinvent wireless" and he is not concerned about WiMAX's looming competitor, LTE. He says they'll explore all options and won't rule out embracing LTE if they need to. He also cited precedence in multiple wireless standards being able to co-exist, pointing to the success of CDMA, despite the existence of the more globally dominant GSM standard. "Mobile WiMAX and LTE is not a win or lose proposition," he said.