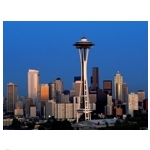 Let the wooing begin. Google's approach to select locations for its new FTTH initiative should be interesting to watch. They are asking localities (including their respective citizens) to basically compete with each other and woo Google to come build their ultrafast fiber network there. In true Google fashion, it almost looks like a reverse auction.
And it didn't take long for cities to begin the process. For one, Seattle's chief technology officer, Bill Schrier, announced (as reported by the TechFlash website) Seattle will make a bid to bring Google's FTTH network to Microsoft's home turf. Wouldn't that be interesting! Seattle's mayor is on board too. Schrier did admit it's probably a longshot, given Seattle's size and Google's commitment to total a range of 50K to 500K homes passed. A market of Seattle's size would swallow that commitment whole. But given the Microsoft angle, it wouldn't be surprising if Google found a way to do a neighborhood or two – maybe one very close to Redmond.
The Microsoft angle aside, this development brings up another interesting issue at the heart of this Google initiative. What do you think Qwest and Comcast feel about the potential of a "competitively priced" 1 Gbps FTTH network suddenly appearing in their footprint? The competitive implications are far reaching, and not just for this hypothetical Seattle example. Wherever these GoogleNets end up, the local incumbent broadband carriers will have a very interesting development on their hands. What do you think they will do?