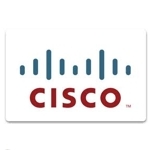 Update: Cisco unveiled their new STB at CES after this post was originally published. Details at the end.
Just yesterday we reported on CES rumors of a new OTT video set-top-box (STB) coming from Microsoft. Apparently Cisco will join them, if you believe a report from the Wall Street Journal which says Cisco intends to unveil a hybrid Internet video STB.
Cisco has been heavily promoting a video-centric event for CES, which one would assume will include (or maybe feature) this new STB. Unlike Apple, Google, and maybe Microsoft, Cisco doesn't intend to take this box retail, according to the WSJ report.
Rather, they intend to distribute it through existing cable providers. Cisco has an extensive cable partner distribution chain, thanks to their acquisition of Scientific Atlanta, which, along with Motorola, makes up a cable STB duopoly in North America.
http://www.youtube.com/watch?v=fMsY9O9iLqk&feature=player_embedded
The new device will reportedly combine VOD and DVR functionality, with access to Internet video options and applications. It's an approach that everyone is trying to figure out, as more and more video gets consumed via broadband Internet delivery.
With this approach, Cisco looks to be arming cable company customers with a competitive product to Apple TV, Roku, Boxee, and others. Cable, IPTV, and DBS providers are exploring how to address the OTT video trend, which conceptually looks to be a threat to their core video subscription business, but hasn't yet materially impacted their top line.
Update: Cisco unveiled Videoscape yesterday afternoon, it's newest set-top-box which blends traditional cable television with OTT access and other social media and communications applications. "Videoscape is part of Cisco's overall video strategy to provide the next generation of TV that is simpler for consumers, and transforms the market opportunity for service providers," said Cisco in a news release.
The new platform aims to offer existing cable operators with a path to offer competing services that match up well with the onslaught of OTT video and broadband applications, both of which are transforming the television experience. Videoscape is more than just a set-top-box. It's a platform which, according to Cisco will enable:
integration of voice, linear and online video, high-speed data, Wi-Fi and network traffic routing.
support of all video forms delivered to a TV, including pay TV, broadcast channels, premium channels, VoD and the Web.
software clients that extend the Videoscape experiences to a wide variety of home and mobile devices, from connected TVs to tablets, smartphones and more.
As the original post suggests, there's growing momentum from a variety of sources to enable these experiences for consumers. Will Videoscape provide the right platform at the right price to make headway in this growing and crowded segment? Stay tuned.