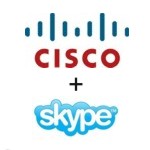 No deal is imminent, but the blogosphere is all abuzz this morning about the possibility that Cisco may try to buy Skype before Skype's pending IPO. The rumored valuation is somewhere around $5 billion for the global IP voice innovator who claims over 560 million members.
If it goes through, it would be an interesting move for Cisco and would in effect make Cisco a service provider, something it's not historically been. In some regards, it would put them in competition with some of their main customers – telecom service providers, large and small. I can see some real interesting integration of Skype into Cisco products:
Integration of Skype into Cisco's IPTV and set-top-box platforms for Skype sessions over the TV
Integration of Skype into Cisco's Flip video camera line, taking advantage of Skype's huge video chat and conferencing reach
Integration of Skype into Linksys home routing gear, giving Cisco a significant advantage in getting Skype into the home ahead of competing services
Integration of Skype into Cisco's numerous broadband infrastructure product lines allowing those products to ship as Skype 'certified'
The potential for a Cisco – Skype marriage (Ciskype) illustrates the ongoing need for traditional voice service providers to continually innovate their own voice products. Ciskype would join a long list of IP voice innovators who take legacy voice services and turn them on their head, attracting a growing and engaged customer base. It's a development that shouldn't be ignored.