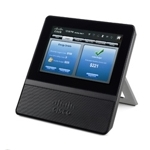 Adding to its Connected Grid line of smart grid/energy management technology for homes and businesses, Cisco yesterday introduced the Cisco Home Energy Management Solution, which includes the Home Energy Controller, a countertop network device with an LCD touchscreen that enables homeowners to monitor and control their electrical power usage. Cisco has identified SmartGrid as a strategic business opportunity and is pursuing it aggressively.
At its CiscoLive! event in Las Vegas, Cisco also took the opportunity to announce updates to its Smart Connected Buildings suite of products. This includes the Cisco Building Mediator Manager 6300, which enables centralized management of Smart Connected Buildings across global enterprise operations, and the Cisco Network Building Mediator 3.1, which provides a platform for linking multiple disparate building automation systems using IP, according to a news release.
"Cisco's vision is to help utilities transform energy production, distribution and consumption using an end-to-end, IP-based communications infrastructure to more sustainably meet the world's future energy needs," explained Laura Ipsen, Cisco Smart Grid SVP and general manager. "Our Connected Grid portfolio represents the foundation of this innovative energy platform that will improve the electrical grid's efficiency and create exciting opportunities for utilities as well as new consumer energy services. With our substation automation solutions at the core, we look forward to helping utilities achieve their business and operational goals."
Cisco's been working with Duke Energy to develop and prove its smart grid/energy management technology. "Home energy management functionality is an important step in providing customers with an enhanced energy experience that is simply not achievable with today's analog grid," commented Gianna Manes, Duke Energy SVP and chief customer officer.