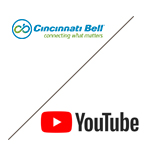 Cincinnati Bell and YouTube TV are partnering to promote the streaming video service in Hawaii and the greater Cincinnati area. The promotion targets the carrier's fiber-connected customers.
Cincinnati Bell's Fioptics Internet was available to about three-quarters of the greater Cincinnati area as of the end of the third quarter of last year. This includes 482,000 addresses where the provider delivers services via an FTTP network.
In Hawaii, where Cincinnati Bell offers service as Hawaiian Telcom, fiber networking is available to about half of the consumer and small business market. That includes 170,600 FTTP addresses, the provider says.
"Cincinnati Bell and Hawaiian Telcom are pleased to offer our customers YouTube TV and give them another option to access content whether they are at home using our high-speed Internet, or on the go using a cellular connection or Wi-Fi network," said Cincinnati Bell COO Tom Simpson in a press release. "This partnership will further simplify the decision-making process for many of our customers who want flexible, innovative, and cost-efficient content platforms."
YouTube TV provides more than 70 broadcast and cable networks to all form factors. Subscriptions include six accounts per household with individual recommendations and personal DVR with unlimited storage.
Cincinnati Bell and Hawaiian Telcom may seem like strange bedfellows, but became one during the summer of 2018. Cincinnati Bell's acquisition of the Hawaiian telco was completed on July 2.
In April, YouTube partnered with Verizon in a deal that will bring the streaming service both to traditional mobile and Fios Internet subscribers.