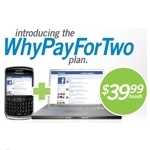 Cincinnati Bell announced their "WhyPayForTwo" promotion which offers mobile broadband and home DSL into a single package for $39.99/month. The new promotion takes aim at other carriers who offer mobile and wireline broadband packages like AT&T and Verizon, but require separate subscriptions for each. "We believe there's only one Internet and consumers shouldn't pay twice to connect to it," said Cincinnati Bell President and CEO Jack Cassidy in a company statement.
It's important to recognize that the mobile broadband portion of this bundle does not include a voice plan. Realistically, subscribers will be paying more than the advertised $39.99 for a complete mobile experience – at least until an acceptable mobile VoIP service is available. It offers mobile access to email, text messaging and mobile Internet browsing, as well as a wireline DSL connection of 5 Mbps for $39.99. Cincinnati Bell operates a regional GSM EDGE network for 3G services.
The bundle is an interesting marketing approach. It doesn't really offer too much in terms of new features or function. But what it does do is create a perception of value for broadband and may tempt value conscious subscribers to take this bundle over maybe a cable competitor who can't match it. It could also tempt existing Cincinnati Bell DSL customers to migrate over to their wireless product from a competing wireless service. AT&T, Verizon, and Sprint all charge $30 or more per month for the mobile broadband portion alone.