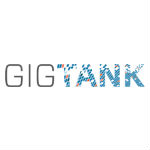 Unlike last year, this year's GigTank Day in Chattanooga did not include any monetary prizes for entrepreneurs with promising ideas about how to use the city's gigabit network. Nevertheless the event, held on August 6, generated some interesting demos and gave demo creators the opportunity to meet with investors and, potentially, to raise funding through those meetings.
Seven start-up companies were on hand to showcase ideas ranging from healthcare to manufacturing automation. Three that looked particularly compelling to me are WeCounsel – a mental health app based on HIPAA-compliant videoconferencing, offering an alternative to in-person meetings; FwdHealth, an app that integrates popular wellness applications into one; and Tidbit.co, an app that rewards employees for creating short videos using their smartphones to offer advice to co-workers on the best way to handle various tasks. A full list of these and other apps demonstrated at GigTank Day can be found on the Chattanooga Gigabit City website.
Chattanooga was one of the first U.S. communities to gain a gigabit network when local utility company EPB deployed an ultra-high-speed fiber network there. Since then some other gigabit networks have been deployed, but Chattanooga has continued to distinguish itself through ongoing efforts to further the development of useful apps that leverage high-speed connectivity. Chattanooga's efforts also have a strong local focus, as project backers see the network as a means of enhancing economic development in the community.