Charter is introducing a new home broadband and mobile bundle that starts at $50/month. The offer, Spectrum One, also has other service plans, based on higher speed tiers.
The $50/month Charter Spectrum One plan includes 300 Mbps home broadband service, an 'unlimited' mobile line, and Charter's advanced Wi-Fi service. Spectrum One plans also include a 500 Mbps plan for $70 and a gigabit tier for $90.
The bundle can provide significant savings, with an unbundled price for all of these services listed on the Charter website as $85, a savings of $35 per month. There is a $20 installation fee, but it doesn't appear that there are any additional equipment fees. This is a promotional price for one year, with prices increasing to normal after month 12.
It's a fairly aggressive offer and is leveraging the appeal of mobile service. Charter is performing quite well with mobile, serving over 4.2 million mobile lines as of the end of 2Q22.
The service also includes Charter's Advanced Wi-Fi service, including the Wi-Fi equipment based on the Wi-Fi 6 standard. Customers can control their Wi-Fi through the My Spectrum app.
New Competitive Reality
The new bundle approach with its significant savings is not surprising. Charter is facing significant headwinds from competitors, especially fixed wireless and FTTH providers. Both Charter and Comcast saw a dramatic decrease in broadband growth in 2Q22, with Charter actually losing 42K residential broadband subscribers in the quarter.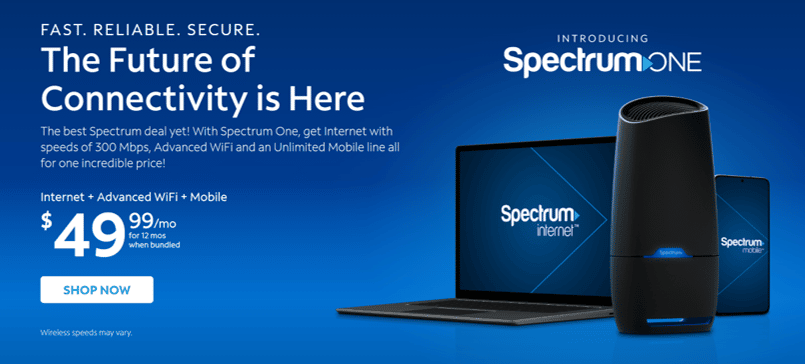 It's probably no coincidence that the $50/month Charter Spectrum One bundle is priced in line with T-Mobile fixed wireless home internet service, also priced at $50. Both T-Mobile and the other fixed wireless competitor, Verizon, bundle mobile with their home fixed wireless service too, but Charter has them beat on price.
T-Mobile's home internet service drops to $30, but that's in addition to the cost for two Magenta Max mobile plans, which start at $140/month. Verizon does the same, dropping home internet to $25, in addition to a mobile plan. Neither of those come close to Spectrum One bundled pricing of $50.
It's a compelling offer. Will it help slow Charter's broadband growth decline or maybe even turn it around to positive growth? We'll have to wait for a couple of quarters to see.