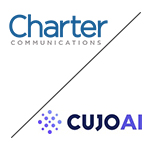 Charter Communications has chosen CUJO AI to provide in-home network security technology for its more than 24 million Spectrum Internet subscribers. As part of the CUJO AI Spectrum deal, Spectrum will begin deploying the solution at an unannounced time later this year.
CUJO AI monitors network and device activity in order to detect abnormal threat behaviors as they occur. Recently the company has announced that it covers the connected experiences for 240 million devices and 16 million homes worldwide.
According to a survey of 2600 CUJO AI firewall users, the consumer expectations for their connected homes have risen quickly as they seek to know their device usage statistics (cited by 61.1% of respondents) and would like to receive recommendations related to security (cited by 72.1%) and get personalized recommendations (cited by 64.5%) that help to maintain and improve their smart homes.
CUJO AI Spectrum Deal
"CUJO AI's leading edge technology will help Charter enhance its superior connected home experience, providing Spectrum Internet customers advanced security, privacy and additional control over their in-home networks," said Andrew Ip, Charter Communications senior vice president of emerging technology and innovation, in a prepared statement. "The connectivity and compute capabilities or our fiber-based network allows us to efficiently and seamlessly bring the benefits of this technology to our customers."
"We are privileged to work with Charter Communications and help to enhance the connected experience across the U.S.," said Einaras von Gravrock, CEO of CUJO AI, in a prepared statement.
Charter is looking to strengthen its offerings to Spectrum customers. Earlier this month, we reported the launch of the Spectrum TV App on Apple TV. Nearly 50 million homes across Charter's footprint now have access to live channels and tens of thousands of On Demand programs on the Spectrum TV App for Apple TV. Additionally, starting next week and expanding throughout 2019, new and existing Spectrum TV and Internet customers can get an Apple TV 4K as part of their monthly subscription for $7.50/month plus tax for 24 months. With Apple TV 4K, customers can enjoy the Spectrum TV App as well as thousands of other apps, iTunes and more — all through one device in the living room.