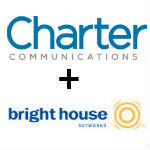 The cable industry is looking more and more like the telecom industry with Charter Communications' announcement today that it plans to acquire Bright House Networks. Charter already was positioned to be the nation's second largest cableco as the result of a pending deal that would put certain Time Warner Cable properties into Charter's hands whenever Comcast's plan to acquire Time Warner Cable is completed. Assuming that deal is completed, Charter also would own one third of a spin-off company comprised of certain current Comcast properties.
The upshot is that Comcast and Charter are playing roles quite similar to those that AT&T and Verizon played some years ago in telecom, where between the two of them they gobbled all but one of the original seven regional Bell companies– and despite some recent sell-offs, the two telcos are still the dominant players in the market.
On a conference call with investors to announce the deal today, Charter CEO Tom Rutledge cited scale as a key driver of the acquisition plans. At a time when content costs are climbing steeply, more and more video providers are seeking mergers and acquisitions as a means of increasing their negotiating power with content providers. Also on today's call, Bright House CEO Steven Miron noted that the cable business is becoming more "centralized," also contributing to the increased importance of scale.
MIron didn't specify what he meant by "centralized" but that may have been a reference to cloud services and new network architectures. Rutledge said the combined business would be "increasingly cloud-based." He also noted that the company will use the Spectrum brand, which Charter launched in late 2013.
The deal is "not about cost cutting but about growing the top line," Rutledge told investors.
$10.4 Billion Charter/ Bright House Deal
The $10.4 billion deal announced today calls for the creation of a partnership that will be 73.7% owned by Charter and 26.3% owned by Bright House parent company Advance/Newhouse. Advance/Newhouse also would get $2 billion in cash. Additionally Liberty Broadband plans to increase its investment in Charter by $2 billion.
If the Charter- Bright House deal is approved and if plans involving Comcast and Time Warner Cable also proceed as planned, Charter will be the nation's second-largest cable company after Comcast with 10.4 million video customers – more than doubling its current base. Bright House operates mainly in the Southeast, which includes several growing markets. Additionally the company has properties in other parts of the country that are adjacent to Charter properties or properties that Charter is set to acquire from Comcast.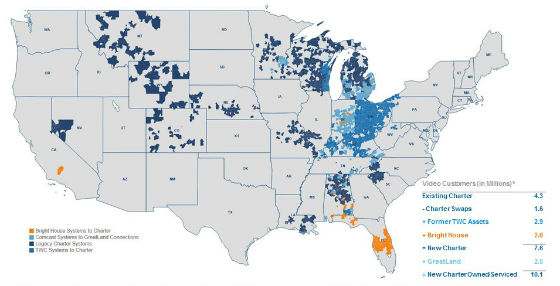 Executives also noted several times on today's call that Bright House uses operational platforms that are very similar to those used by Time Warner Cable. That means Charter employees familiar with those systems should help the combined company more easily absorb Time Warner Cable properties, the executives said.
The executives also touted Charter's set-top box technology, which is designed to be backwards-compatible with a range of devices. That approach, they said, will help the company integrate the mix of set-top boxes used by customers of the companies they will be acquiring.