An interesting mobile industry data point of note happened in Q1 2016, when new connected car net adds outpaced smartphone net adds, according to data from industry analyst Chetan Sharma. The trend illustrates shifting trends in mobile, as smartphone penetration nears saturation in the U.S.
Sharma follows the industry closely with his recurring mobile market updates, and notes that non-phone net adds actually dominate the net additions for devices connecting to mobile networks. Smartphones only made up 31% of new net adds in 1Q 2016, according to Sharma's data.
Tablets made up 23%, M2M/IoT connections made up 14%, and new connected car net adds led the way with roughly one third (32%) of all new net adds in the quarter.
Connected cars are seen as a growth opportunity for large national carriers as they look to back fill declining growth for new smartphone adds. By some accounts, smartphone penetration in developed markets like the U.S. is 80% or more, leaving diminishing growth prospects.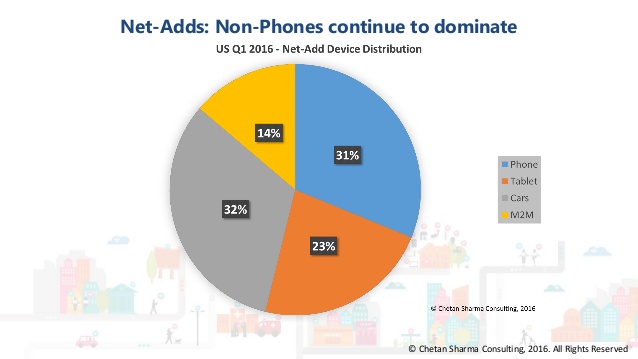 Carriers like AT&T are aggressively pursuing connected car subscriptions, giving cars mobile 4G connectivity to power in-car WiFi and other connected car applications, including autonomous vehicle capabilities. In fact, according to Sharma's data, AT&T's 1Q 2016 new connected car net adds outpaced all other wireless carriers combined.
Other data points from Charma's 1Q 2016 Mobile Market Update include:
Mobile data revenues increased by 17% YoY and now contribute 73% of the overall service revenues.
Device revenues declined sharply as consumers are upgrading at a slower pace than before and new device launches haven't really motivated consumers to upgrade.
Mobile data traffic grew again with per sub smartphone consumption going past 4.0 GB/user/mo however, overall data traffic is expected to slow down in 2016.
Operator tablet net-adds growth declined sharply.