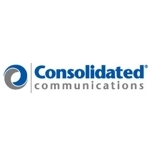 The latest conflict between content owners and video service providers may have been de-escalated this week when FCC intervention put a halt to Sinclair's blackout of Dish Network, but conflicts remain. Some video providers – including Consolidated Communications — are finding video content economics so challenging that they are rethinking that whole line of business.
Consolidated Communications Video
"We used to be very triple play and video-centric," said Consolidated Communications CFO Steve Childers in a presentation at the Midwest IDEAS Investor Conference in Chicago today, which was also webcast. "But with the explosion of video content costs and the cost of [customer premises equipment] for video customers, we're really trying to, from the consumer side, stabilize our broadband services – and we'll offer subscription services . . . but we'd really rather work with somebody to help them with over-the-top or streaming capabilities."
Asked in a question-and-answer session following his presentation about video competition, Childers again discussed Consolidated's de-emphasis of video.
"Three years ago, if somebody came in with a really aggressive video offering, we were chasing net adds on the video side and we'd probably try to match that or get as close to it as we could," said Childers. "The current thinking is that we've got a robust broadband product and we'll still sell video if you want it, but based on the content costs that we have, we've got to make money on it. So we're . . . not discounting it as aggressively as we did once."
Childers also noted that "We've actually lost video subscribers the last couple of quarters and that's by design. We'd rather sell you 50 megabit broadband Internet and not necessarily sell subscription video to you."
While Childers may have been blunter than some of his peers, other carriers also are beginning to de-emphasize subscription video. Some small telcos have opted not to carry some video channels because the cost to carry content has outpaced what they believe customers will pay. And several larger carriers have launched their own over-the-top offerings – a possibility Childers seemed to hint at for Consolidated.
Gigabit Update and Verizon Wireless
Also of note in Childers' presentation:
The company now offers gigabit service in all of the states in which it provides local service, but doesn't have many takers for the offering

Consolidated owns between 2% and 23% of five wireless partnerships with Verizon in Texas and Pennsylvania dating back to the 1980s or 1990s. The partnerships came to Consolidated through acquisition and the capital investment was made years ago. Accordingly Consolidated now gets at least $35 million annually that is "pure cash flow to us," Childers said.