At CES 2013, Verizon Communications showed off a variety of updates for its FiOS TV service, as well as a demonstration of the forthcoming Redbox Instant service from the Verizon-Coinstar joint venture. Verizon is championing a theme it calls the 'Borderless Lifestyle', to bring video to consumers anywhere on any device. To help quantify the 'Borderless Consumer' in ways that are meaningful toward defining competitive video services, Verizon and Harris Interactive conducted five consumer surveys during the third and fourth quarters of 2012, resulting in the Verizon FiOS Innovation Index: Borderless Lifestyle Survey. The survey results are available online.
Verizon multiscreen consumer research
According to Verizon, Borderless Consumers make up about 39% across all age groups and ethnicities in the US population, with a slight female majority. They tend to be affluent, well educated, use multiple connected devices and require connectivity anywhere and anytime. The only age group with fewer than 40% were 'Matures' (those who are older than Baby Boomers). Each of the five surveys sampled more than 2,000 consumers nationwide, not just Verizon customers.
According to the survey respondents, 32% of connected consumers surveyed indicated an interest to control or influence TV shows using a phone or tablet, while 35% wanted real-time games, and 27% wanted real-time interaction with TV commercials. The surveys found that the average US home has 8 or 9 devices (unlike cable provider Cox Communications, which assumes about five). This breaks down into two or more set-top boxes, two laptops, one or two tablets, at least two smartphones and a game console.
The research also found that for most categories of TV programming, no more than 5% of consumers in the general population wanted video streaming or downloads to a mobile device. At least half of the general population (in most program categories, and much higher for sports) watch live TV. About a quarter time-shift their programming via DVR for viewing on the TV. On-demand consumption is less than 10% across program categories, but is higher for movies (22%). All of these percentages are higher for Borderless Consumers, more than 30% of whom watch TV on laptops, tablets and smartphones.
The influence of research on Verizon service development
Using this research, Verizon is riding the multiscreen TV wave with both eyes open. Although Verizon designed its FiOS Flex View on-demand service to deliver content to many types of devices, the operator sees that consumers at this time want to use different devices for different purposes when engaging with live TV. The survey found that about 80% of consumers prefer to have the TV experience on the TV. Mobile smartphones are used more for content discovery, bookmarking for later use, and control of the big screen TV experience – as well as for social communication about content – but not so much for consumption beyond 'snacking' and short-form content.
After set-top boxes, Verizon FiOS Innovation Index respondent ranked PCs and tablets as the next most popular type of TV consumer electronics device because their screens are big enough to substitute for a full-sized TV. Verizon's research has found that consumers average about 45 minutes of tablet viewing per session – even if there's a big screen in the same room. To satisfy this demand, Verizon now offers access to 75 live (linear) TV channels on the tablet and provides tools for easy discovery there.
After tablets, the next most popular type of device for a full-sized TV experience is game consoles (which are growing rapidly), followed by connected 'smart' TVs. Survey respondents said that connected Blu-ray players are used less often to consume live TV. These rankings have contributed Verizon's entertainment technology initiatives.
New Verizon video gateway
To enable multiscreen consumption and the use of second-screen devices to control the primary TV experience, Verizon has finally introduced its long-anticipated video gateway, more properly referred to as a media server entertainment gateway because video is only one of its capabilities. The six tuner Motorola Medios+ VMS1100 has 100 hours of HD storage capacity and can record up to six programs at one time. It streams video content using IP-over-MoCA to IPC1100 client set-top boxes. Trick-play for live and DVR-recorded programming can be controlled via any TV in the house, or via a mobile device. If there is more than one VMS1100 in the home, users can opt to see all recordings contiguously across all of them, or use one for some recordings (say, in the living room), and another for other recordings (say, in the den or bedroom). As with earlier FiOS TV whole-home DVRs, he user can stop playback via the STB in one room and resume via another. Bookmarks are kept on the gateway. The ability to resume playback on a tablet is under development, and introduction of that feature is expected later in the year.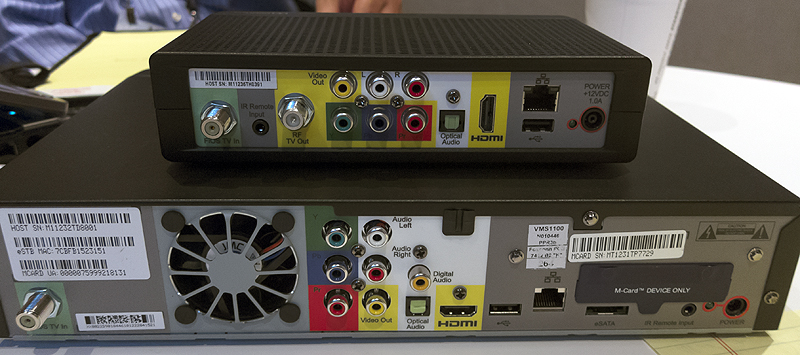 FiOS TV user experience update
Verizon's program guide, the FiOS TV Interactive Media Guide (IMG), has been transitioned to an HTML5 to present a blended experience of TV programming alongside promotional video from the Web, and to present high-resolution graphics, such as 'poster' (graphical thumbnail) views of video titles on the TV screen. The IMG was built using Motorola Medios+ DreamGallery client middleware. Verizon has created and provided a new HTML5-based Widget platform beta SDK to its content partners – including Home Shopping Network and numerous others – to develop new HTML5-based interactive widgets within the TV experience. At present, Verizon opens this developer initiative to content partners but not to the general developer community. So far, more than 18 of them are available within FiOS TV, which continues to support apps that were previously authored in Verizon's earlier development environment, Lua.
As a result of the development of a new HTML5 Widget for FiOS TV by YouTube, the new IMG also brings a visually and functionally refined YouTube experience to FiOS TV users (in comparison to the YouTube experience found on the Web). FiOS TV users can also use the existing "photo-flicking" feature to send YouTube videos from their mobile devices to the TV via their home WiFi network, through the new VMS1100 box.
Verizon continues to support Facebook and Twitter, so users can watch social media streams that automatically correlate to the channel being watched. It was the first pay TV provider to offer TV-social media integration in the US.
Since Verizon found game consoles to be a popular TV consumer device, the operator supports the Microsoft Xbox 360 and enables the control of channel change through the Xbox Kinect device; both by voice command and through gesture. Verizon officials believe that its services can help increase the appeal of game consoles for women and other audiences that are outside of the traditional video game demographic, to reposition the Xbox as more of a whole-home media hub.
In October 2011, Verizon introduced its app for live linear TV viewing via the Microsoft Xbox 360, with integrated app control for channel change through the Xbox Kinect device; both by using voice commands and through gesture. Service to the Xbox 360 started with 26 live channels, and it has been expanded to 75 channels. Verizon officials believe that its services can leverage the growing appeal of game consoles for women and other audiences that are outside of the traditional video game demographic, changes that are repositioning the Xbox as more of a whole-home media hub.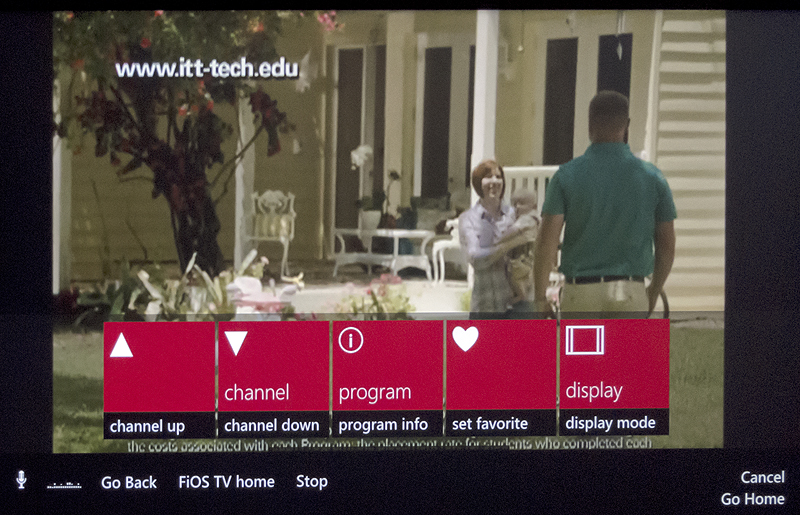 To support connected TVs, Verizon has partnered with Samsung and LG Electronics. Verizon and Samsung are members of the RVU Alliance, whose technology enables secure video distribution to IP TV clients.
Redbox Instant
Verizon's other video initiative, Redbox Instant, a partnership between Verizon and Coinstar, was on display at the Samsung booth at CES, and has gone into public beta. It's an interesting blend of physical and virtual video services. Subscriptions will be $8.00 per month, which will include credits for four rental nights at Redbox kiosks, plus unlimited online streaming to a variety of connected CE devices. Online viewers will be able to see content grouped via 'filters' (categories), including various genres and previews of what's hot at Redbox kiosks in the physical domain. The 'Envelope Please' area of screenshot below will be used by Redbox Instant to recommend content and give visibility to promotions. The service will launch this spring.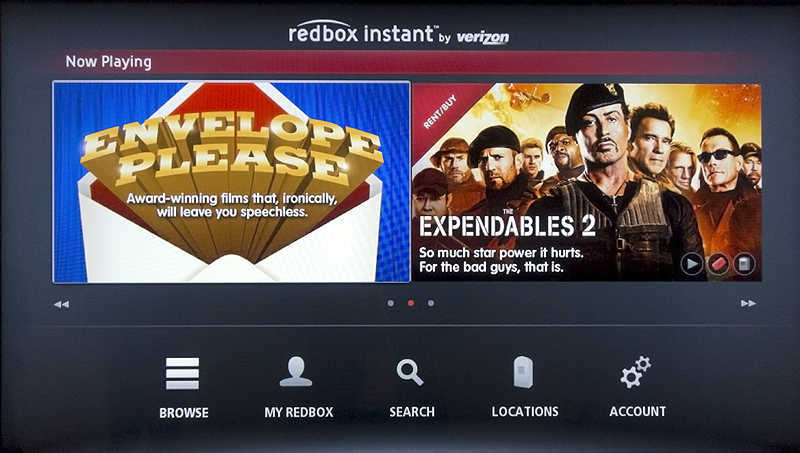 Verizon everywhere
In his CES keynote, Verizon's chairman and CEO Lowell McAdam indicated that FiOS TV won't be limited to fixed line access in years to come. He said that Verizon may broadcast (multicast) live video over LTE in 2014. Mr. McAdam handed off a part of his presentation to a Ford Motor Company executive who described Ford's Sync App link for smartphones – which indicated that Verizon, and not just AT&T, also has a focus on the connected car.
CES bottom line
Some observers complained that this year's CES lacked any significant new breakthroughs, but the connected car, LTE wireless, home security/home control, multiscreen TV, and app development initiatives being introduced by Verizon and AT&T point toward clear competitive advantages that these telcos will have over cable in years to come. One wild card will be what satellite operator DISH Network will introduce this year when it launches its own broadband wireless initiative.
Generally, CES showcased a new maturity among service providers. Gone are the days when operators would put new features into their services because they saw it as a network engineering challenge or thought it would be cool. The telco, cable and satellite services that I saw at CES were all carefully designed and targeted to satisfy the needs of consumers.