As it does each year, the 2013 International Consumer Electronics Show opened with a bang.  Dozens of high profile press conferences take place the day before the trade show opens.  Cisco held an event on Monday evening, which included brief speeches by Cisco CEO John Chambers and Cox Communications CEO Patrick Esser.  Las Vegas is a Cox cable TV market, and accordingly, the mayors of Las Vegas and several adjacent communities were also invited and recognized by the hosts.
Cox updates its cable TV experience
Cox used this occasion to launch three new technologies: a video gateway, a second screen app, and a new EPG for existing set-top boxes.  The video gateway is from Cisco and will be available during the first quarter of 2013.  It has six on-board tuners, whole-home DVR capability and 2 terabytes (1,000 HD hours) of storage.  The second screen app, called the Personal Video Experience, was demonstrated on the iPad.  It uses Cisco's handsome 'Snowflake' user interface, which was developed by NDS and is now part of Cisco's Videoscape offering.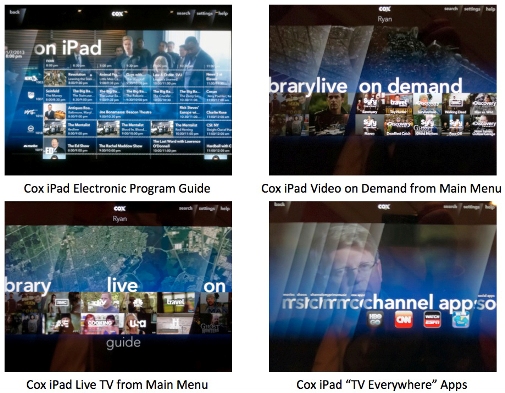 The new Cox set-top EPG, called the Trio, was developed internally by Cox Communications.  Both the Trio and the Personal Video Experience use the Think Analytics recommendation engine, which appears as a green diamond icon on either screen as well as on the Cox remote control.  Cox research found that the average U.S. household has five Internet-connected devices, and both the gateway and the Trio EPG were designed around those assumptions, to support video distribution and recommendation to as many as 8 individual users per household.
In addition to enabling the user to view and control channel-change, the DVR and VOD, this app allows users to watch 90 live TV channels on the tablet.  Company officials say that Cox will have a VOD library of more than 40,000 titles in 2013.  The Personal Video Experience will be first available in Orange County, California during the first quarter.  Versions for the iPod Touch, iPhone and for Android devices, and additional markets, will launch over time as the year progresses.
AT&T 2013 Developer Summit at CES
AT&T hosted its 2013 Developer Summit, which continued the themes that were presented to industry analysts at its November 2012 Analyst Summit.  The Developer Summit included a hackathon that led to presentations before the Monday (Jan. 7) keynote audience by three finalist app developers (out of more than 70).  Hackathons are designed to foster creativity, and – practical or not – these apps were good showcases for the features in AT&T's network.
The winning app was called "Good Times," which its developer described as a "24/7 personal assistant."  The app could read a person's mood through a piece of connected headgear, and accept or reject incoming calls through AT&T's Voice APIs.  If a call is rejected, the incoming caller would hear "please try again later" and be redirected to voicemail.   Another app was called "Hear Here," which showed social contacts and friends on a map on the mobile screen, using location-based service within AT&T's network.  It allowed the user to broadcast voice messages to social contacts, again by leveraging Voice APIs.  The third finalist was "Talk To You Now," which converted speech to text and text to speech, to respond to incoming callers by voice or text message.  It also could respond to multiple calls at once, and was pitched not just as a convenience tool but also as an aid for the hearing- and speech-impaired.  The developer of the winning app won $30,000 cash.
In step with its Digital Life announcements AT&T used the Developer Summit to co-announce what they said is the first UL approved all-digital home control device with Cisco.  Cisco CEO John Chambers (Mr Chambers gets around!) was there to accept the UL certificate from Ralph de la Vega, CEO of AT&T Mobility and Consumer markets.  AT&T also used this event to launch a home control developer program for application developers and for device manufacturers.
AT&T officials noted that the company has also become a key supporter of the Open Stack Community, and contributes to it in four areas: HTML5, Platforms, Onboarding (onto AT&T's network), and Support.  More than 25 of the mobile smartphones introduced by AT&T in 2012 were HTML5 compatible, which has created a built-in market for HTML5 developers.  AT&T has also been playing a role in the W3C's HTML5 initiatives.  All in all, AT&T is clearly no longer your father's telephone company.
Cars are CE devices too
Another award – a new Chevy Volt – was presented at the AT&T event by Mary Chan, General Motors' VP of Global Connected Consumer, to the developer of a connected car application called "Quick Trip."  This app syncs user activities with the car, so it can recommend the most efficient driving route.  By using location services in the mobile network, it also takes current traffic patterns into consideration.  On the same day, and just down the street from the AT&T event, Ford Motor Company's press event showed off a smartphone app called Glympse, which has been integrated with Ford's SYNC™ in-car connectivity system.
DISH Network update
DISH Network launched a new version of its Hopper whole home DVR. By virtue of its built-in Slingbox functionality, courtesy of a Broadcom BCM7425 processor that includes Sling technology right on the chip; it has logically been dubbed the DISH Hopper™ with Sling ®.  The unit also features double the RAM memory of the original Hopper model (which remains available), to improve performance.  Both Hopper models have 2TB of storage capacity.  DISH also introduced a social TV app for the Hopper with Sling, which displays Twitter feeds alongside the currently playing TV program on the TV; and enables viewers to select and send several pre-programmed tweets using the TV remote control.  It automatically uses the Twitter hash tag associated with that show.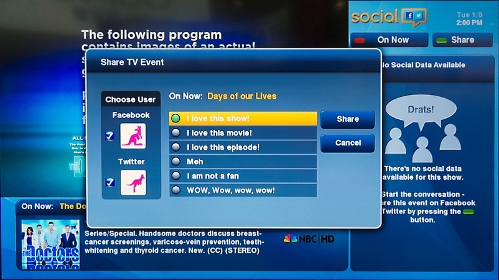 Those who were hoping that DISH would announce a 4G wireless offering as a follow-up to last fall's dishNET Broadband high-speed Internet service were disappointed, although DISH officials did say that news would be forthcoming "at a future event."  A DISH wireless service has been anticipated, following the 2011 and 2012 acquisitions of DBSD North America, TerreStar Networks and HughesNet.  Observers came even closer to the edge of their seats with the confirmation by DISH on Tuesday that it has 'formally approached' Clearwire Corporation with respect to a potential strategic transaction.
Another Telecompetitor article this week makes note of DISH's new DISH Explorer second screen social media app and DISH's Hopper Transfers™ app.  Hopper Transfers is similar to DirecTV's 2011 Nomad offering.  Both the DISH and DirecTV solutions transcode the content, which takes the same amount of time to transcode as it takes for the program to play.  After that, the transfer to the portable device takes another few minutes.
Remember Google TV?
It's also worth noting that DISH Network continues to offer its integration with Google TV, which is really a platform and not a service.  LG Electronics was demonstrating the Google TV/DISH solution on its new GA7900, a 55-inch connected TV.  The DISH/Google TV combo also works with smart TVs, Blu-ray players and other connected devices from other CE makers, as long as those devices are pre-integrated with GoogleTV.  DISH launched its Google TV solution in 2010 with Sony and Logitech.  Google TV is also available in TVs and Blu-ray Players from Samsung, Vizio, LG, and other connected CE manufacturers.  Using the DISH ViP722/722K set-top box, this integrated solution lists programming from the DISH EPG, recordings on the ViP722's DVR, and content from the Web in a single search result.